This Thursday evening the world was fortunate to be able to enjoy Martha Argerich solo – something which is utterly sensational as the legend these days exclusively appear in concerts with orchestras and in chamber music collaborations.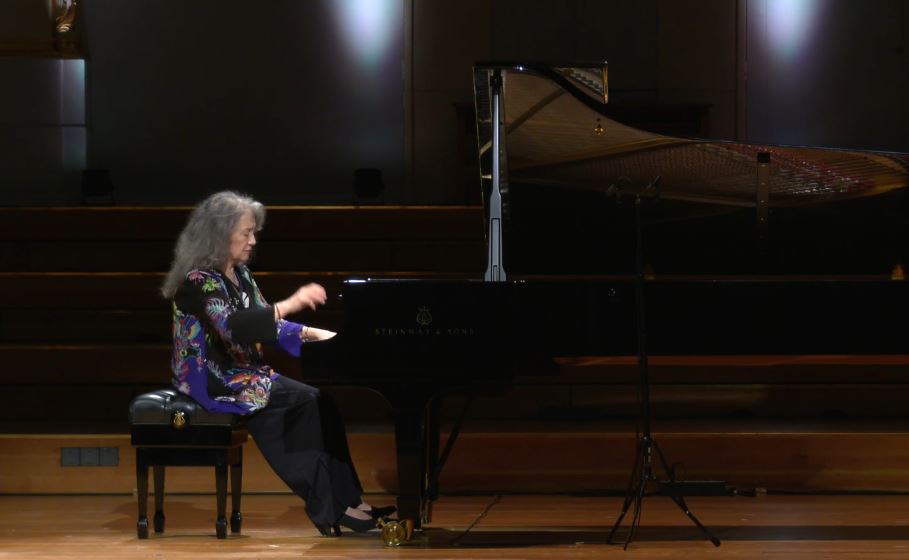 Symphoniker Hamburg is running a now ongoing Internet festival at Laeiszhalle in Hamburg, created and designed as musical collages themed around Gustav Mahler's Das Lied von der Erde. Ensembles, chamber music and solo performances are presented in a fine multimedial blend.
On the festival's first day we could hear Martha Argerich and Nicholas Angelich play Maurice Ravel's La Valse (31,22).
In the evening of the second day, a streamed live concert with classical music eminence took to the stage, Martha Argerich joining violinist Renaud Capuçon for a recital which evidently also included a big and unexpected surprise: Argerich performing Chopin's 3rd Sonata in B minor, a work she didn't perform in public for decades.
Digital piano score:

After weeks of streaming audience free performances you are getting used to empty halls and the noise free environment. Probably, in one way appreciated by the musicians too. The recording situation comes to ones mind amplified by Argerich's sporadic smiles and half glances out into the empty auditorium. After the glorious performance one could trace Argerich's slight but evident uncertainty regarding who to thank for the missing applaudes. The world surely wants more solo Martha Argerich!
/patrick