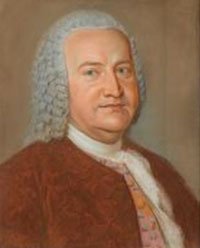 The recent discovery of a new portrait of J. S. Bach opens up to the question: if we can see Bach with new eyes, how can we listen to Bach with new ears?
One of the most remarkable contributions to the idea that there is a world of Bach on the piano after Glenn Gould is the recording of three Bach concertos by French pianist David Fray in 2008. Enjoy the performance of the A major concerto and also take the chance to discover Fray's world and work with Bach in Bruno Monsaignon's film.
J. S. Bach – Concerto A major, BWV 1055, 1st mvt.
Swing, Sing, Think
Bruno Monsaingeon's unique film "Swing, Sing, Think" takes us into the private world of David Fray and his work "recreating" three concertos for keyboard and orchestra by Johann Sebastian Bach. Although major musical figures such as Gould, Richter, Menuhin or Sokolov are part of Monsaingeon's musical world, the filmmaker also likes to share his discoveries of young artists. David Fray, born in 1981, isn't afraid of being in the limelight. He lets Monsaingeon film the recording of his first record for Virgin Classics in 2008 with Die Deutsche Kammerphilarmonie Bremen, which he also directs from the piano. The question is: How can one play Bach after Gould? We follow David Fray at home, in Paris, working on the score and explaining the different interpretational options open to him.
During rehearsals with the orchestra, he shares with the musicians his vision of the works with astonishing passion, spontaneity and imagination. Just like the title of the film "Swing, Sing and Think" suggests, this transmits the inspiration that Fray breathes into three Bach Concertos; in A Major BWV 1055, in F Minor BWV 1056 and in G Minor BWV 1058.
By retracing the musical gesture that leads to the interpretation of the work, or rather to its "re-creation", the film also immerses us in the creative everlasting world of J. S. Bach.

"True baroque style could never be confined within the limits of the quest for an illusory instrumental authenticity. It resides, beyond philology, in the spirit, and it is at that level that David Fray has captured it with such moving eloquence." – Bruno Monsaingeon
See the entire Bruno Monsaingeon film "Swing, Sing, Think" about Fray´s recording of J. S. Bach concertos with Die Deutsche Kammerphilharmonie Bremen:
---

Loading ...