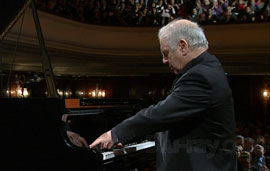 "… one of the few musicians in the world today who could accurately be described as legendary."
— The Times
Daniel Barenboim marked his new affiliation with Decca and Deutsche Grammophon labels in 2010 with four releases. Two releases on DG were devoted to Chopin: a solo recital recorded in Warsaw, with Waltzes, a Polonaise, a Fantasia, a Nocturne and the B flat minor Sonata, as well as Chopin's two Concertos, accompanied by the Berlin Staatskapelle under Andris Nelsons, captured live at the Ruhr Piano Festival in July 2010. The Chopin Year 2010 coincided with the 60th anniversary of Daniel Barenboim's stage début, and as a pianist he decided to devote this year to the great Romantic master of the keyboard. Chopin was born on 1 March 1810 in the small village Żelazowa Wola near Warsaw, and on the eve of the 200th anniversary of this date Barenboim gave this acclaimed Warsaw recital as part of an extensive European tour. Over the years, Barenboim has been criticised for neglecting Chopin and we have to go all the way back to 1981 in order to find his DG recording of the Nocturnes.
The Warsaw Recital
Recital repertoire:

Fantasia in F minor, Op. 49


Nocturne in D flat major, Op. 27 No. 2


Piano Sonata No. 2 in B flat minor, Op. 35 'Marche funebre'


Barcarolle in F sharp major, Op. 60


Waltz A flat major "Grande Valse Brillante", Op. 34 No. 3


Waltz in A minor, Op. 34 No. 2


Waltz in C sharp minor, Op. 64 No. 2


Berceuse in D flat major, Op. 57


Polonaise in A flat major, Op. 53 'Heroique'


Mazurka in F minor, Op. 7 No. 3


Waltz in D flat major, Op. 64 No. 1 'Minute Waltz'

---
The Warsaw Recital — Philosophy of Emotion
---
Reader question:
What do you think about Barenboim's Chopin interpretations?
/patrick