Garrick Ohlsson live in Fort Worth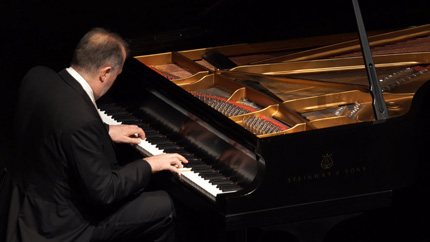 Since his triumph at the 1970 Chopin International Piano Competition (the only American winner ever), pianist Garrick Ohlsson has established himself worldwide as a musician of magisterial interpretive and technical prowess. Although long regarded as one of the world's leading exponents of the music of Frédéric Chopin, the Grammy Award-winner commands an enormous repertoire, which ranges over the entire piano literature.
In this season-closing concert of the Cliburn Live series in Bass Performance Hall in Fort Worth, Texas on Tuesday, April 5, 2016, Ohlsson performs works by Beethoven, Schubert, and Chopin. Thanks to the closely positioned microphones and sparse artificial reverb (if any), we get to hear the sound balance similar to what a top concert pianist hears from the piano chair when playing a Steinway D in a large hall.
PROGRAM


Beethoven: Sonata No. 31 in A-flat Major, op. 110


Schubert: Fantasy in C Major, D. 760 ("Der Wanderer")


Chopin: Scherzo No. 4 in E Major, op. 54


Chopin: Etude in E Minor, op. 25, no. 5


Chopin: Etude in G-sharp Minor, op. 25, no. 6


Chopin: Nocturne in C Minor, op. 48, no. 1


Chopin: Ballade No. 1 in G Minor, op. 23
In an interview from 2012 (examiner.com) Garrick Ohlsson explains one aspect of his continuous interest in exploring the richness of the whole piano repertoire:
"The heroism of the Liszt Sonata or of the Appassionata is really not of real life. It's the same thing as great Shakespeare, with these violent tragedies, and really, all art in all cultures. It tells us about ourselves. When I'm playing Beethoven, or Liszt, or whomever, I get in touch with heroism, with sublimity, a demonism or a tenderness, that I have some idea about. It's like an actor having to do a great role. You might discover that some of those qualities are in you a little bit.
That's the affinity, that's what you have a feeling for. And I think that's the greatest privilege for it. For me, the function of Art is to bring me in touch with that greater world. Great writers do it, great film makers can do it, etc. I mean, I like great music because it's better than real life (laughs) – although real life is just fine, don't get me wrong. But there's a distillation, a sublimity or a happiness, a pleasure or a great sadness. It distills the essence."
---
Over a four-year period, CLIBURN LIVE webcasts over 250 performances live and on demand to the world—all three competitions (Amateur in June 2016, Cliburn in May/June 2017, and Junior in June 2019) and select Cliburn Concerts by some of the world's top performing musicians (2-3 annually).
"The Cliburn's mission is to share classical music with the widest audience possible," said Jacques Marquis, president and CEO. "The viewership of the competition webcasts has grown exponentially every four years and is an extremely valuable tool to fulfilling that mandate. We have an expertise in broadcasting live concerts online and are presenting the finest artists annually in Fort Worth. It's a natural extension to showcase Cliburn Concerts internationally as well—and a way to bring people from across the world to the Cliburn much more often."