Ivan Moravec – Pianist's Pianist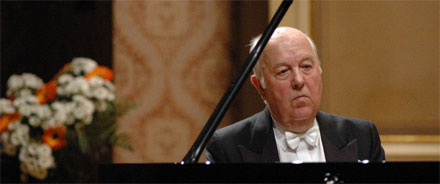 The name Ivan Moravec (b.1930) is held in high respect by executants and connoisseurs.
The Czech pianist's recordings for Connoisseur Society were notable for their audiophile quality and nearly all of them remain available, long after the LP era, on CD reissues. Moravec has also recorded for several other labels including Vox, Dorian, Hänssler, and Supraphon. In 1998 a 2-CD compilation of Ivan Moravec recordings was published as part of the landmark Philips series, Great Pianists of the 20th Century. He is described by New Grove as one of the finest Chopin interpreters of that century. In 2000 Moravec was awarded the Charles IV Prize, the Czech Republic's most prestigious acknowledgement of service to humanity. That same year President Václav Havel presented Moravec with the Medal of Merit for outstanding artistic achievements. In 2002 Moravec was awarded the Cannes Classical Award for lifetime achievement.
Here we can listen to Moravec recording and discussing Chopin:
Link:
Amazon: Samples of Moravec's recordings of the Chopin Nocturnes