"Tranquility through austerity" had become Cage's watchword by the time he composed the Suite for Toy Piano in 1948. His new musical heroes were the master miniaturists Webern and Satie and in his polemical addresses to the students he championed their sense of scale against the "deadening" monumentality of Beethoven.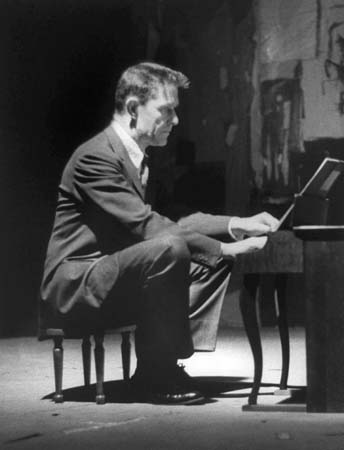 Cage: "As soon as I began to study oriental philosophy, I introduced it into my music. People then were always pretending that a composer had to have something to say. So what I was saying was nothing more than what I had understood about, first of all, the philosophy of India"
(Interview with Daniel Charles in "For The Birds").
The toy piano is a very limited instrument; it has not much more than an octave of diatonic notes. Cage starts by restricting this instrument even more, using only five notes in the middle of the instrument. The next three notes expand the note palette until all keys on the toy instrument can be used, and then the final movement reverts back to five notes. The music has an intimate and charming, if somewhat deliberately bland quality.
Cage enjoyed the chiming sound of the toy piano and clearly was predisposed to write for a keyboard that produced, again, hard-edged and unemotional sounds from a limited-note palette. Another factor that obviously predisposed him to write this suite was his major occupation of that year: he had gone to teach at Black Mountain College in North Carolina. (While teaching there in 1944 he had organized an event that is generally acknowledged as the first instance of what two decades later came to be called "a happening.") His 1948 project was a 25-concert series featuring the music of French composer Erik Satie.
/patrick