Master Pianist Jorge Bolet Rehearsing and Teaching Rachmaninov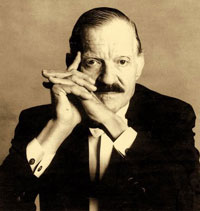 Jorge Bolet was born in Havana, and studied at the Curtis Institute of Music in Philadelphia, where he himself taught from 1939 to 1942. His teachers included Leopold Godowsky, Josef Hofmann, David Saperton, Moriz Rosenthal and Fritz Reiner. Bolet is particularly well remembered for his performances and recordings of large-scale Romantic music, particularly works by Franz Liszt, César Franck and Frédéric Chopin. He also specialised in piano transcriptions and unusual repertoire, including the fiendishly difficult works of Godowsky, many of which Bolet had studied with the composer himself. In an interview given to Elyse Mach (Great Contemporary Pianists Speak for Themselves, Dover), Bolet extensively mentioned an obscure piece by Joseph Marx which was, according to Bolet's own words, his favorite among virtuoso concertos because of the enormous show of strength required from the soloist.
See and hear Jorge Bolet and Conductor Paavo Berglund in a preliminary rehearsal prior to a full rehearsal with the BBC Scottish Symphony Orchestra in a performance of the Rachmaninov 2nd Piano Concerto.
Later Bolet became Head of Piano at the Curtis Institute, succeeding Rudolf Serkin, but he resigned from this to concentrate once again on his performing career. A measure of Bolet's stature can be given by the fact that the dean of American music critics, Harold C. Schonberg (New York Times), considered him "a kind of latter-day Josef Lhévinne".
Here follows part 11 (of 14) of a famous 1983 master class by Jorge Bolet featuring pianists Ira Levin, Jose Feghali, Philip Smith, Marc-Antionio Barone, Wolfgang Manz (in this clip) and Barry Douglas.
Also listen to Bolet's highly praised 9 CD box (Decca) with piano works of Franz Liszt: