Rubinstein by the Rubinsteins
Hedonist and altruist at the same time, favorite of the gods and philanthropist, melancholic and sanguine serious artist, a gifted musician and brilliant pianist, egomaniac and family pet. Arthur Rubinstein, a great character and great cosmopolitan, a man who loved life, the music and the people so much.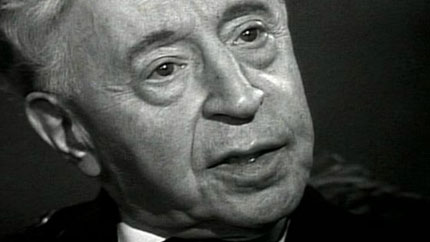 The recent documentary film (2010) about the life and work of Arthur Rubinstein, brings to life the personality of a great artist and demonstrates what his art is all about. Film maker Marie-Claire Margossian undertook a voyage through Rubinstein's life with the help of his daughter Eva, a photographer and the participation of John and Alina Rubinstein as well as testimonies of friends like Jacques Chazal, Daniel Barenboim, Zubin Mehta, Gustavo Dudamel and others.
Documentaries based on biographical data is one approach, but unless it is brought to life through pictures and memories it communicates very little. This is where the family archive and the hundreds of photographs comes in.
Margossian succeeds in creating a remarkably vivid and uniquely personal profile of one of the great pianist legends of the 20th century and recreates the various steps in Rubinstein's career and gets to the persona behind the celebrity.
Rubinstein by the Rubinsteins
ARTE France, Zone d'Images, 52 min (subtitles in German)