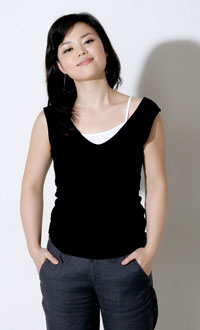 Together with Lang Lang and Yundi Li, Sa Chen (born 1979) is considered as one of today's most important Chinese pianists and a veritable international sensation. Originally a student of Professor Dan Zhao, China's most eminent piano teacher, she won first prize in the 1994 China International Piano Competition and fourth place in the 2000 International Frederick Chopin Piano Competition in Warszaw and a prize in the Leeds International Piano Competition.
Furthermore, she was a third place winner in the 2005 Van Cliburn International Piano Competition. She has continued her training with Joan Havill in London and Arie Vardi in Hannover where she now resides.
Here we can hear her in the second movement of Chopin´s first Piano Concerto in E minor Op. 11 with the Gulbenkian Orchestra, Lisbon conducted by Lawrence Foster.