Stephen Kovacevich Plays an Allemande
A highly regarded pianist featured in the Philips label's Great Pianists of the 20th Century series, Stephen Kovacevich is particularly known for his thoughtfulness, re-creative intensity and original artistic approach. In 1959, Kovacevich went to London, where he studied with Dame Myra Hess. A highly influential teacher, Hess recognized and encouraged Kovacevich's affinity with Beethoven's music. His numerous and acclaimed interpretations of the core classical repertoire has won unsurpassed admiration over the years.
Simplistic beauty as a result of extensive experience
Let's hear Stephen Kovacevich talk and perform the Allemande from J. S. Bach's Partita No. 4. We are all very happy that Kovacevich decided not to quit playing the piano at the age of 32!
Bach's Keyboard Suites
Suites of popular dance movements like the Allemande, Courante, Sarabande, Gigue, etc. were common and very popular in instrumental Baroque music. Bach wrote 18 keyboard suites; English and French Suites and Partitas. Although each of the six Partitas was published separately, they were collected into a single volume (1731), known as the Clavier-Übung I (Keyboard Practice), which Bach himself chose to label his Opus 1.
Allemande – a calm dance expressing satisfaction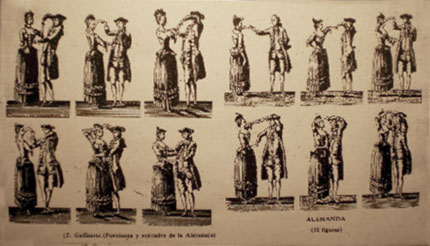 The Allemande originated in the 16th century as a dance of moderate tempo, derived from dances supposed to be favoured in Germany at the time. It was traditionally regarded as a rather serious dance or as Johann Mattheson described it: "a serious and well-composed harmoniousness in arpeggiated style, expressing satisfaction or amusement, and delighting in order and calm".