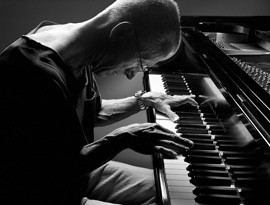 "There's never been a time when improvisation was given the respect it deserves. By virtue of the holistic quality of it, it takes everything to do it. It takes real time, no editing possible. It takes your nervous system to be on alert for every possible thing in a way that cannot be said for any other kind of music." – Keith Jarrett
It's unquestionable that Keith Jarrett is one of the most significant pianists to emerge in the second half of the 20th Century. This is a wonderful documentary portrait from 2005 of one of the world's pianist superstars of improvisation. Classical or jazz, Jarret's unique artistry embraces all aspects of music and explores – perhaps more than any other – the magical present moment.
The film contains interviews with past and present collaborators including Jan Garbarek, Palle Danielsson, Jon Christensen, Charlie Haden, Gary Peacock, Jack DeJohnette, Chick Corea, Gary Burton and Dewey Redman. We also get to know the ECM label owner and producer Manfred Eicher, with whom Jarrett found the perfect creative partner early in his career. The unique concert footage which for example includes performances with Lloyd, Miles, the Standards Trio, and the American and European Quartets, demonstrates the incredible interaction that flows at every performance.
/nilsjohan