The Van Cliburn Memorial Concert 2014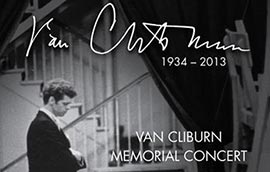 To mark the one-year anniversary of the death of legendary pianist Van Cliburn, the Fort Worth-based foundation that bears his name hosted The Van Cliburn Memorial Concert in Sundance Square Plaza on February 27. In the first event of its kind, eight former Cliburn Competition award winners performed short solo recitals on the outdoor stage of the plaza in downtown Fort Worth.
The free concert was live-streamed through Cliburn.org. The participating pianists covered a competition history ranging from 1985 until 2013. Hear the full concert below.
Van Cliburn Memorial Concert – February 27, 2014 – Program:
Yakov Kasman, 1997 silver medalist (18:15)
RACHMANINOV – Sonata No. 2 in B-flat Minor, op. 36 (1913)


Allegro agitato


Non allegro – Lento


L'istesso tempo – Allegro molto
---
Simone Pedroni, 1993 gold medalist (44:23)
WILLIAMS


Suite from Lincoln
LISZT


Funérailles
---
Steven Lin, 2013 jury discretionary award winner (1:17:30)
DEBUSSY – Selections from Suite bergamasque


Ménuet


Clair de lune
MENDELSSOHN


Fantasy in F-sharp Minor, op. 28
---
Maxim Philippov, 2001 silver medalist (1:41:42)
SCHUMANN – Sonata in F-sharp Minor, op. 28


Introduzione: Un poco Adagio – Allegro vivace


Aria


Scherzo: Allegrissimo – intermezzo: Lento


Finale: Allegro, un poco maestoso
---
Alexey Koltakov, 2001 finalist (2:11:35)
LISZT


Après une Lecture du Dante
---
José Feghali, 1985 gold medalist (2:30:09)
SCHUMANN – Kinderszenen, op. 15


1. Von fremden Ländern und Menschen


2. Kuriose Geschichte


3. Hasche-Mann


4. Bittendes Kind


5. Glückes genug


6. Wichtige Begebenheit


7. Träumerei


8. Am Kamin


9. Ritter vom Steckenpferd


10. Fast zu ernst


11. Fürchtenmachen


12. Kind im Einschlummern


13. Der Dichter spricht
BACH-HESS


Jesu, Joy of Man's Desiring
---
Antonio Pompa-Baldi, 2001 silver medalist (2:59:07)
LISZT


Ballade No. 2 in B Minor
POULENC


Les chemins de l'amour
LISZT


Paraphrase on Verdi's "Ernani"
---
Alexander Kobrin, 2005 gold medalist (3:29:04)
TCHAIKOVSKY – Selections from The Seasons, op. 37b


January


February


June


July


August


October


November


December
More on The Van Cliburn Competition:
The 13th Van Cliburn International Piano Competition and a 50th Anniversary
The 14th Van Cliburn – Merging High Quality Performance with Hi-End Technology