Yuja Wang & Prokofiev in Factory Setting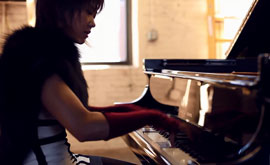 Let's go to New York City.
After letting her finish her coffee we can hear Yuja Wang, not at the usual Steinway showroom in Manhattan where most pianists pick pianos for their performances, but on the floor at the Steinway and Sons factory in Astoria, Queens. National Public Radio (NPR) chose the most natural setting for any pianist interested in top notch concert grands when recording Yuja Wang playing Prokofiev's technically demanding Toccata in D Minor, Op. 11.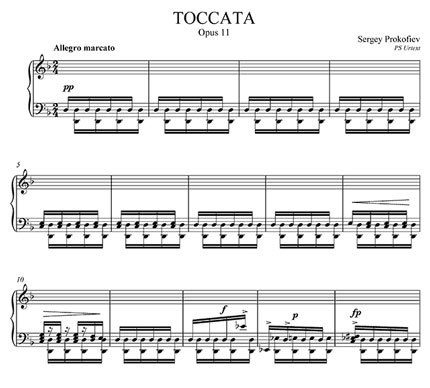 With all its hypnotic repetition of a single note and elaborate chromaticism Prokofiev's biographer David Gutman argued that Prokofiev himself had trouble playing it because his technique, while good, was not quite enough to completely master the piece. However this fact is not universally accepted and his performance as reproduced in 1997 for the Nimbus Records series The Composer Plays is certainly virtuosic and technically skilled. What do you think?
Toccata (from Italian toccare, "to touch") is a virtuoso piece of music typically for a keyboard featuring fast-moving, lightly fingered or virtuosic passages and sections generally emphasizing the dexterity of the performer's fingers. Composers such as J. S. Bach, Robert Schumann, Maurice Ravel, Dmitri Kabalevsky and Aram Khachaturian have all composed well-known works in this form.