Classical Piano Sheet Music to Download and Print

or to View in Your
Mobile Device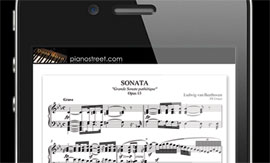 ---
Sign-up now
For instant access to the printable sheet music of
Six Pieces by Busoni
and thousands of other classical piano pieces,
sign up
for a Piano Street Gold Membership!
Ferruccio Busoni: Six Pieces
This collection is the second solo piano work by Busoni to bear the Opus number 33, the first being Medieval Figures from 1883.
For some reason, having reached Opus number 40 at age 17, Busoni decided to jump back to number 31 and start again from there. As their titles suggest, the first two pieces of the set contrast beautifully – the first serious, heavy and melancholy, the second light, swift and elegant. The fifth piece is a reminder of Busoni's time in Finland (1888-1889), where he met his wife Gerda Sjöstrand, daughter of a celebrated Swedish sculptor, and began his lifelong friendship with Jean Sibelius.
Sheet Music Downloads: