Ferruccio Busoni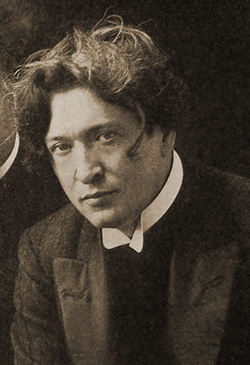 Ferruccio Dante Michelangelo Benvenuto Busoni (1866-1924) was born in Empoli, near Florence, Italy.
He was taught by his parents, who were both professional musicians, and made a sensational public debut as a pianist at the age of seven. After holding teaching posts in Helsinki, Moscow and Boston, he settled permanently in Berlin at the age of 28, continuing to travel widely as a performer.
Busoni's important achievements as a composer were long over-shadowed by the fact that he was generally thought the greatest piano virtuoso after Liszt.
He also made his mark as a respected teacher of both piano playing and composition, and as an editor of Bach's keyboard music. His thoughts on Bach's music have been highly influential, although his editions weren't exactly what we today would call authentic. In spite of his interest in baroque and classical music, Busoni was certainly no backward-looking composer. In his writings he proposes the use of microtonal scales and electronics, and in 1912 he produced his first work "without tonality", the Second Sonatina. Busoni's major keyboard work, Contrapuntal Fantasy, is based on the final, incomplete fugue from Bach's Art of Fugue. It was first published in 1910, and later revised several times.
His Piano Concerto is one of the longest ever written, at least seventy minutes in performance, and makes use of a male choir. This preference for writing long and difficult works has not made Busoni a favourite in concert halls, but through his teaching he influenced 20th century music greatly.
Among his pupils were Kurt Weill, Edgard Varèse and Stefan Wolpe; John Cage and Morton Feldman are among the later composers who have acknowledged his importance.
Busoni Piano Sheet Music
for digital devices or to download & print
Total pieces by Busoni: 40
ID:87
Forum posts about Ferruccio Busoni
Busoni Trills by f flat minor
Generally curious, how do you play these trills (from Busoni's Fantasia Contrappuntistica)? It will seem like a piece of cake to someone...