Classical Piano Sheet Music to Download and Print

or to View in Your
Mobile Device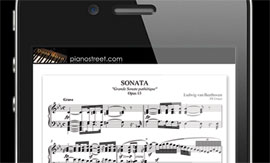 ---
Sign-up now
For instant access to the printable sheet music of
Concertos by Chopin
and thousands of other classical piano pieces,
sign up
for a Piano Street Gold Membership!
Frédéric Chopin: Concertos
Chopin's works for piano and orchestra were all composed before his emigration to Paris in 1831; there are six works in all, including the two concertos published in reverse order.
The E minor concerto was issued in 1833, the "Second" in F minor in 1836 although Chopin composed it in 1829, when he was 19. Both reflect his infatuation with Vincenzo Bellini´s Operas, especially Norma, whose ornamentation Chopin adapted to the piano and incorporated in his own highly personal style.
Chopin's orchestration is rarely especially artful – but this is more than compensated for by the outstanding poetry of the piano parts.
Sheet Music Downloads:
Posts in the piano forum about Concertos by Chopin:

Chopin Piano Concertos

June 15, 2006, 04:56:08 PM by kaiwin


When I first started listening to concertos the first was Chopin's piano concertos. I listened to hundreds of concertos multiple times by like all the composers for about a year. Then I go back to listening to Chopin's concerto its like "wow".

Probably going to do one for senior concerto...

Whats your opinion on this?