Classical Piano Sheet Music to Download and Print

or to View in Your
Mobile Device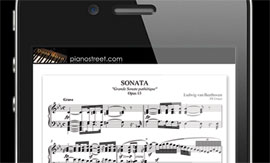 ---
Sign-up now
For instant access to the printable sheet music of
Images Book II by Debussy
and thousands of other classical piano pieces,
sign up
for a Piano Street Gold Membership!
Posts in the piano forum about Images Book II by Debussy:

Debussy - Images (books 1 & 2)

November 23, 2009, 12:11:00 AM by johncanderson


Hello, this is my first post here. I recently recorded these in my home studio. Since you can only upload 4 at a time, I'm uploading the second book in the next post. I hope you enjoy them!
Thanks for listening,
John



Debussy Images Book II

September 25, 2006, 01:12:21 AM by shoenberg3


I just felt compelled say... I love this set of work. Beautiful.

That is all.

Discuss or possibly don't.