Alexander Glazounov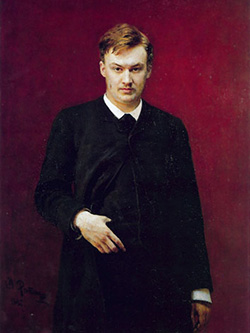 Alexander Glazunov (1865-1936) was born in St. Petersburg. When he was fourteen he had been composing for three years and got a recommendation from Balakirev to study with Rimsky-Korsakov.
A lifelong friendship developed between the two and Rimsky-Korsakov said of his student that he progressed "not from day to day but from hour to hour".
The first of Glazunov´s nine symphonies premiered when he was 16 years old. Glazunov was also a very competent conductor, even if he is said to have been drunk when conducting Rachmaninoff´s first symphony at its disastrous première in 1897.
He left Russia in 1928, toured Europe and the United States, and eventually settled in Paris, where he died.
Glazunov´s most popular works are the ballets The Seasons and Raymonda. For piano, he wrote two sonatas and a fair amount of smaller pieces: waltzes, etudes, preludes and fugues as well as two fantasies for double piano.
Glazounov Piano Sheet Music
for digital devices or to download & print
Total pieces by Glazounov: 2
ID:12