Classical Piano Sheet Music to Download and Print

or to View in Your
Mobile Device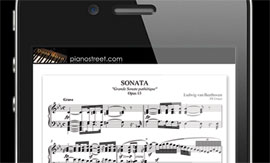 ---
Sign-up now
For instant access to the printable sheet music of
19 Norwegian Folk Tunes by Grieg
and thousands of other classical piano pieces,
sign up
for a Piano Street Gold Membership!
Edvard Grieg: 19 Norwegian Folk Tunes
Norwegian nature, people, and folklore always had a powerful influence on Grieg's work. The 19 Norwegian Folk Songs, Op. 66, are among the works that express that close connection with his native land very directly. The collection is similar to the previous set of 25 Folk Songs and Dances, Op. 17, composed almost 30 years earlier. But in the later set, the harmonic treatment of the tunes is even more radical. Grieg wrote to his friend Julius Röntgen: "I have put some hair-raising chromatic chords on paper. The excuse is that they originated not on the piano but in my mind. If one has the Vøring waterfall beneath one's feet, one feels more free and daring than down in the valley."
Sheet Music Downloads: