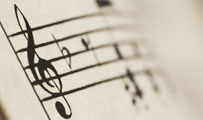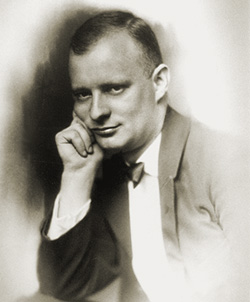 Hindemith - Piano Music
Paul Hindemith
(1895-1963) was the most important German composer in the inter-war years. He studied violin in Frankfurt, and after his father´s death in 1915 joined the orchestra of the Frankfurt Opera. He also supplemented the family income with private teaching and by playing in taverns and cinemas. He kept this practical approach to music all his life, performing on violin or viola as soloist or in various chamber ensembles. He organised music festivals, taught in Germany, USA and Turkey and later began a new career as conductor. Hindemith´s music draws on a wide variety of historical and contemporary styles. He developed his own completely unique system for understanding and composing music, based on the ranking of intervals of the 12-tone scale according to how dissonant they are. The most direct application of this theory is the large piano work Ludus Tonalis, containing 12 fugues with interludes - Hindemith´s response to
Bach´s Das Wohltemperierte Clavier
. He also wrote three piano sonatas, several other piano pieces for two or four hands, and sonatas with piano for almost every instrument of the orchestra.
Hindemith about himself:
"As a violinist, violist, pianist and percussionist I have thoroughly cultivated the following musical fields: chamber music of all kinds, cinema music, coffee house music, dance music, operetta, jazz band, and military music."
Piano Sheet music by Paul Hindemith to Download
| | | |
| --- | --- | --- |
| Download & Print | View in Mobile Device | For instant access to the printable sheet music of pices by Hindemith and thousands of other classical piano pieces, sign up for a Piano Street Gold Membership! |
Total pieces by Hindemith: 1
Posts in the piano forum about Hindemith:

Re: Hindemith

May 10, 2005, 08:37:58 PM by Ernie


I totally agree with you guys! Personally, I'm more familiar with his chamber music. He wrote sonata's for almost every classical instrument with piano. Right now, I'm working on the flute sonata, which is nice. More impressive are the sonatas for trumpet, for viola and certainly the one for trombone!! The piano parts are rather virtuoso, but always pianistic.

Together with Martinu and Janacek, I consider Hindemith as one of the most underestimated composers of the past century. His writing can get so intensly painfull... very touching music indeed!