Classical Piano Sheet Music to Download and Print

or to View in Your
Mobile Device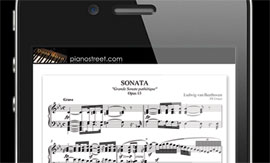 ---
Sign-up now
For instant access to the printable sheet music of
Liebesträume by Liszt
and thousands of other classical piano pieces,
sign up
for a Piano Street Gold Membership!
Franz Liszt: Liebesträume
The three Liebesträume were originally conceived around 1845 as songs after poems by Ludwig Uhland and Ferdinand Freiligrath.
In 1850 two versions appeared simultaneously as a set of songs for high voice and piano, and as transcriptions for piano solo. The poems depict three different forms of love: Uhland´s Exalted Love (Nocturne No. 1) is about religious feelings, while the second song, I Was Dead, evokes erotic love. Freiligrath´s poem for the famous third Nocturne is about unconditional mature love: "Love as long as you can! The hour will come when you will stand at the grave and mourn."
Sheet Music Downloads:
Posts in the piano forum about Liebesträume by Liszt:

Can I have your comment on my record of Liebestraum?

April 01, 2011, 05:54:39 PM by kantsuiex


Just a random shot of my practicing. And I will further polish this...

I know the first cadenza is not well played..
Besides this, can anyone tell me that if I am in the right direction of learning this piece?
Any suggestion on increasing the musicality?
Thanks=)




Are there any books of Daniel Gottlob Turk's piano music?

January 23, 2008, 07:21:30 PM by orlandopiano


I've seen his smaller pieces in various early/intermediate books and I love them as teaching pieces. I was wondering if there are any collections of his smaller pieces and who publishes them.