Classical Piano Sheet Music to Download and Print

or to View in Your
Mobile Device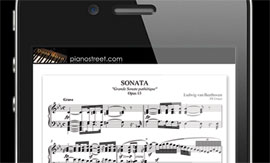 ---
Sign-up now
For instant access to the printable sheet music of
Transcriptions of other composers' works by Liszt
and thousands of other classical piano pieces,
sign up
for a Piano Street Gold Membership!
Franz Liszt: Transcriptions of other composers' works
Transcriptions and paraphrases played an important part in shaping Liszt´s role as leading musical figure of his generation.
The first pianist to play the entire range of the keyboard repertory from Bach to Chopin, his historical curiosity and ambitions did not stop there. He transcribed both famous and less well known vocal and orchestral works of others in order to promote the music, and in order to challenge himself to enrich the field of piano techniques.
In orchestral transcriptions Liszt strived to create a sound that would reflect the colour of the various instruments, while the song transcriptions show remarkable inventiveness in  preserving both the vocal line and the full richness of the accompaniment.
In the Opera paraphrases, based on small fragments of the original work, he uses the most memorable moments to try to capture the essence of the Opera's characters and ideas.
Sheet Music Downloads:
| Title | AST | Key | Composed | Type | Level |
| --- | --- | --- | --- | --- | --- |
| Auber: Tyrolean Melody S. 385 | | G Major | 1829 | Piece | 6 |
| Arcadelt: Ave Maria S. 183 No. 2 | | F Major | 1862 | Transcription | 6 |
| Bach: Prelude & Fugue for Organ, BWV 543 S. 462 No. 1 | | A Minor | 1863 | Transcription | 8+ |
| Bach: Prelude & Fugue for Organ, BWV 545 S. 462 No. 2 | | C Major | 1850 | Transcription | 8+ |
| Bach: Prelude & Fugue for Organ, BWV 546 S. 462 No. 3 | | C Minor | 1850 | Transcription | 8+ |
| Bach: Prelude & Fugue for Organ, BWV 547 S. 462 No. 4 | | C Major | 1850 | Transcription | 8+ |
| Bach: Prelude & Fugue for Organ, BWV 548 S. 462 No. 5 | | E Minor | 1850 | Transcription | 8+ |
| Bach: Prelude & Fugue for Organ, BWV 544 S. 462 No. 6 | | B Minor | 1850 | Transcription | 8+ |
| Bach: Fantasy & Fugue for Organ, BWV 542 S. 463 | | G Minor | 1863 | Transcription | 8+ |
| Beethoven: Adelaide S. 466 | | B-flat Major | 1847 | Transcription | 8+ |
| Beethoven: Mignon S. 161 | | A Major | 1849 | Transcription | 7 |
| Beethoven: An die ferne Geliebte S. 469 | | n/a | 1849 | Transcription | 8 |
| Chopin: The Maiden's Wish S. 480 No. 1 | | D Major | 1860 | Transcription | 8 |
| Chopin: Spring S. 480 No. 2 | | G Minor | 1860 | Transcription | 6 |
| Chopin: The Ring S. 480 No. 3 | | E-flat Major | 1860 | Transcription | 7 |
| Chopin: Bacchanal S. 480 No. 4 | | C Major | 1860 | Transcription | 8 |
| Chopin: My Joys S. 480 No. 5 | | G-flat Major | 1860 | Transcription | 8 |
| Chopin: Homeward S. 480 No. 6 | | C Minor | 1860 | Transcription | 8+ |
| Gounod: Waltz from Faust S. 407 | | n/a | 1861 | Transcription | 8+ |
| Handel: Sarabande and Chaconne S. 181 | | G Minor | 1879 | Transcription | 8+ |
| Mendelssohn: Frühlingslied S. 547 No. 5 | | B-flat Major | 1840 | Transcription | 8+ |
| Mendelssohn: On Wings of Song S. 547 No. 1 | | A-flat Major | 1840 | Transcription | 8+ |
| Rossini: La Danza, Neapolitan Tarantella S. 424 No. 9 | | A Minor | 1837 | Transcription | 8+ |
| Rossini: La Regata Veneziana S. 424 No. 2 | | n/a | 1837 | Transcription | 8+ |
| Rossini: William Tell overture S. 552 | | E Major | 1838 | Transcription | 8+ |
| Rossini: Cujus animam S. 553 | | A-flat Major | 1847 | Transcription | 8+ |
| Schubert: Trauermarsch S. 426 No. 1 | | E-flat Minor | 1846 | Transcription | 8+ |
| Schubert: Grand March S. 426 No. 2 | | B Minor | 1846 | Transcription | 8+ |
| Schubert: March in C S. 426 No. 3 | | C Major | 1846 | Transcription | 8+ |
| Schubert: Die Rose S. 556 | | G Major | 1838 | Transcription | 8+ |
| Schubert: Meeresstille S. 557 | | C Major | 1837 | Transcription | 7 |
| Schubert: Lob der Tränen S. 557 | | D Major | 1838 | Transcription | 8+ |
| Schubert: Sei mir gegrüsst S. 558 No. 1 | | B-flat Major | 1838 | Transcription | 8+ |
| Schubert: Auf dem Wasser zu singen S. 558 No. 2 | | A-flat Major | 1838 | Transcription | 8+ |
| Schubert: Du bist die Ruh S. 558 No. 3 | | E-flat Major | 1838 | Transcription | 8+ |
| Schubert: Erlkönig S. 558 No. 4 | | G Minor | 1838 | Transcription | 8+ |
| Schubert: Die junge Nonne S. 558 No. 6 | | F Major | 1838 | Transcription | 8+ |
| Schubert: Frühlingsglaube S. 558 No. 7 | | A-flat Major | 1838 | Transcription | 8+ |
| Schubert: Gretchen am Spinnrade S. 558 No. 8 | | D Minor | 1838 | Transcription | 8+ |
| Schubert: Ständchen (Horch, horch) S. 558 No. 9 | | B-flat Major | 1838 | Transcription | 8+ |
| Schubert: Rastlose Liebe S. 558 No. 10 | | E Major | 1838 | Transcription | 8+ |
| Schubert: Der Wanderer S. 558 No. 11 | | C-sharp Minor | 1838 | Transcription | 8+ |
| Schubert: Ave Maria S. 558 No. 12 | | B-flat Major | 1838 | Transcription | 8+ |
| Schubert: Die Stadt S. 560 No. 1 | | C Minor | 1839 | Transcription | 8+ |
| Schubert: Das Fischermädchen S. 560 No. 2 | | A-flat Major | 1839 | Transcription | 8+ |
| Schubert: Aufenthalt S. 560 No. 3 | | E Minor | 1839 | Transcription | 8 |
| Schubert: Am Meer S. 560 No. 4 | | C Major | 1839 | Transcription | 8 |
| Schubert: Abschied S. 560 No. 5 | | E-flat Major | 1839 | Transcription | 8+ |
| Schubert: In der Ferne S. 560 No. 6 | | B Minor | 1839 | Transcription | 8+ |
| Schubert: Ständchen S. 560 No. 7 | | D Minor | 1839 | Transcription | 8 |
| Schubert: Ihr Bild S. 560 No. 8 | | B-flat Minor | 1839 | Transcription | 7 |
| Schubert: Frühlingssehnsucht S. 560 No. 9 | | B-flat Major | 1839 | Transcription | 8+ |
| Schubert: Liebesbotschaft S. 560 No. 10 | | G Major | 1839 | Transcription | 8+ |
| Schubert: Der Atlas S. 560 No. 11 | | G Minor | 1839 | Transcription | 8+ |
| Schubert: Der Doppelgänger S. 560 No. 12 | | B Minor | 1839 | Transcription | 8 |
| Schubert: Die Taubenpost S. 560 No. 13 | | G Major | 1839 | Transcription | 8+ |
| Schubert: Kriegers Ahnung S. 560 No. 14 | | C Minor | 1839 | Transcription | 8+ |
| Schubert: Der Lindenbaum S. 561 No. 7 | | E Major | 1839 | Transcription | 8+ |
| Schubert: Litanei S. 562 No. 1 | | E-flat Major | 1840 | Transcription | 8 |
| Schubert: Himmelsfunken S. 562 No. 2 | | G Major | 1840 | Transcription | 8 |
| Schubert: Die Gestirne S. 562 No. 3 | | F Major | 1840 | Transcription | 8+ |
| Schubert: Hymne S. 562 No. 4 | | D Major | 1840 | Transcription | 8 |
| Schubert: Lebe wohl! S. 563 No. 1 | | E-flat Major | 1844 | Transcription | 8+ |
| Schubert: Mädchens Klage S. 563 No. 2 | | C Minor | 1844 | Transcription | 8+ |
| Schubert: Das Sterbeglöcklein S. 563 No. 3 | | A-flat Major | 1844 | Transcription | 8+ |
| Schubert: Trockne Blumen S. 563 No. 4 | | C Minor | 1844 | Transcription | 8+ |
| Schubert: Ungeduld S. 563 No. 5 | | B-flat Major | 1844 | Transcription | 8+ |
| Schubert: The Trout S. 563 No. 6 | | n/a | 1846 | Transcription | 8+ |
| Schubert: Das Wandern S. 565 No. 1 | | B-flat Major | 1846 | Transcription | 8+ |
| Schubert: Der Müller und der Bach S. 565 No. 2 | | G Minor | 1846 | Transcription | 8+ |
| Schubert: Der Jäger S. 565 No. 3 | | C Minor | 1846 | Transcription | 8+ |
| Schubert: Die böse Farbe S. 565 No. 4 | | C Major | 1846 | Transcription | 8+ |
| Schubert: Wohin S. 565 No. 5 | | G Major | 1846 | Transcription | 8+ |
| Schubert: Wanderer Fantasy S. 653 | | C Major | 1851 | Transcription, two pianos | 8+ |
| Schumann: Widmung S. 566 | | A-flat Major | 1848 | Transcription | 8+ |
| Schumann: Frühlingsnacht S. 568 | | F-sharp Major | 1872 | Transcription | 8+ |
| Tchaikowsky: Polonaise S. 429 | | n/a | 1880 | Transcription | 8+ |
| Wagner: Spinning Chorus S. 440 | | A Major | 1860 | Transcription | 8+ |
| Wagner: Ballad from the Flying Dutchman S. 441 | | B-flat Major | 1872 | Transcription | 8+ |
| Wagner: Tannhäuser overture S. 442 | | E Major | 1848 | Transcription | 8+ |
| Wagner: Pilgrim's Chorus S. 443 | | E Major | 1861 | Transcription | 8+ |
| Wagner: Song to the Evening Star S. 444 | | A-flat Major | 1849 | Transcription | 8 |
| Wagner: Arrival of the Guests at Wartburg S. 445 No. 1 | | B Major | 1852 | Transcription | 8+ |
| Wagner: Elsa's Bridal Procession S. 445 No. 2 | | E-flat Major | 1852 | Transcription | 8 |
| Wagner: Festival and Bridal Song S. 446 No. 1 | | G Major | 1854 | Transcription | 8+ |
| Wagner: Elsa's Dream S. 446 No. 2 | | A-flat Major | 1854 | Transcription | 7 |
| Wagner: Lohengrin's Rebuke S. 446 No. 3 | | C Major | 1854 | Transcription | 8 |
| Wagner: Isolde's Liebestod S. 447 | | B Major | 1867 | Transcription | 8+ |
| Wagner: Am stillen Herd S. 448 | | D Major | 1871 | Transcription | 8+ |
| Wagner: Valhalla S. 449 | | D-flat Major | 1875 | Transcription | 8+ |
| Wagner: Solemn march to the Holy Grail S. 450 | | C Major | 1882 | Transcription | 8 |
| Weber: Polonaise Brillante S. 367 | | E Major | 1852 | Transcription, two pianos | 8+ |