Classical Piano Sheet Music to Download and Print

or to View in Your
Mobile Device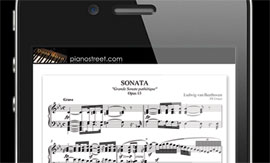 ---
Sign-up now
For instant access to the printable sheet music of
Songs Without Words by Mendelssohn
and thousands of other classical piano pieces,
sign up
for a Piano Street Gold Membership!
Felix Mendelssohn: Songs Without Words
Mendelssohn first referred to a "lied ohne worte" in a letter to his sister Fanny Mendelssohn in 1928. But when the first set was published in London it was given the title Original Melodies for the Pianoforte. Eventually, the name that stuck to these works was the one Mendelssohn had thought of in the first place, and five more sets of Songs Without Words followed in his lifetime (the last two were published posthumously).
They became immensely popular, not least because of the fact that many of the pieces were within the grasp of the amateur musician. Fanny Hensel noted that wherever she played Lieder ohne Worte a pair of young ladies would regularly fall into a faint. Mendelssohn himself has very eloquently summed up the idea behind these works: "People usually complain that music is so ambiguous; that they are doubtful as to what they should think when they hear it, whereas everyone understands words.
For me, it is just the reverse… [Words] seem to me so ambiguous, so indefinite, so open to misunderstanding in comparison with real music which fills one's soul with a thousand better things than words."
Sheet Music Downloads:
Posts in the piano forum about Songs Without Words by Mendelssohn:

Mendelssohn----Songs Without Words

September 08, 2006, 10:15:11 AM by kitty on the keys


I dont see Mendelssohn mentioned very much. The songs without Words are delightful pieces, anybody working on them; favorite recordings, favorites in the collection.

Kitty



Re: Love Piece

August 10, 2006, 10:01:40 PM by moi_not_toi


WOOT WOOT!!!
Glad you've got a gurl that likes music. Way to go.


Try some Mendelssohn.
On Wings of Song is really good, but I haven't tried it in a while so it might be harder than I remember it.

Pretty much anything by Mendelssohn is good. Try to play something from Songs w/o Words.

Good luck, mate!


Mendelssohn's neglected masterpieces?

December 22, 2001, 09:37:23 PM by pianoloverus


I find SOME of Mendelssohns's Songs without Words incredibly beautiful and moving despite their often very simple harmony. I have become especially enamored of #12(Venetian Boat Song), #18(Duetto-until recently, my favorite), #20, #25(May Breezes), #32(my current favorite), #40(Elegy), and #47. I once attended one of Jeffrey Siegel's Keyboard Conversations where he began the concert by playing #30(Spring Song) and then asked the audience whether they thought the piece was terrific or a piece of schlock . The audience was about equally divided their opinion. What do you think about Mendelssohn's Songs without Words? Do you think any of them can stand beside the Chopin Preludes, Debussey Preludes, or Brahms Intermezzi?
Does anyone know the "names" of the ones I've listed above with only their number?