Classical Piano Sheet Music to Download and Print

or to View in Your
Mobile Device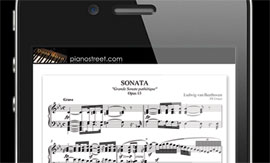 ---
Sign-up now
For instant access to the printable sheet music of
Songs Without Words by Mendelssohn
and thousands of other classical piano pieces,
sign up
for a Piano Street Gold Membership!
Felix Mendelssohn: Songs Without Words
Mendelssohn first referred to a "lied ohne worte" in a letter to his sister Fanny Mendelssohn in 1928. But when the first set was published in London it was given the title Original Melodies for the Pianoforte. Eventually, the name that stuck to these works was the one Mendelssohn had thought of in the first place, and five more sets of Songs Without Words followed in his lifetime (the last two were published posthumously).
They became immensely popular, not least because of the fact that many of the pieces were within the grasp of the amateur musician. Fanny Hensel noted that wherever she played Lieder ohne Worte a pair of young ladies would regularly fall into a faint. Mendelssohn himself has very eloquently summed up the idea behind these works: "People usually complain that music is so ambiguous; that they are doubtful as to what they should think when they hear it, whereas everyone understands words.
For me, it is just the reverse… [Words] seem to me so ambiguous, so indefinite, so open to misunderstanding in comparison with real music which fills one's soul with a thousand better things than words."
Sheet Music Downloads: