Classical Piano Sheet Music to Download and Print

or to View in Your
Mobile Device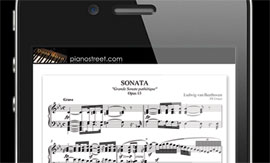 ---
Sign-up now
For instant access to the printable sheet music of
Concertos by Mozart
and thousands of other classical piano pieces,
sign up
for a Piano Street Gold Membership!
Wolfgang Amadéus Mozart: Concertos
The story of the piano concerto really starts with Mozart. He developed for the concerto the same degree of mastery that Haydn had won for the symphony or the string quartet, and transformed it almost beyond recognition. While no two of the piano concertos are quite alike, they do of course have many features in common. The orchestral exposition remains in the tonic; the piano then comes in and explores the principal material together with the orchestra in a conversational style. After the development and recapitulation sections, the orchestra comes to an inconclusive stop in the form of a 6/4 chord at the dominant; the soloist improvises a cadenza, after which there is a brief coda.
The slow middle movement is likely to be in sonata or variation form; the finale may also be one of the two just mentioned, but is usually a rondo.
Almost all of the more important concertos were written after Mozart's move to Vienna, to be performed at his own subscription concert series there.
The concertos Nos. 14-25 were written in a period of creativity that has certainly never been surpassed in piano concerto production, lasting from February 1784 to December 1786.
Sheet Music Downloads:
Posts in the piano forum about Concertos by Mozart:

mozart piano concerto

February 19, 2011, 04:56:17 PM by 1plus


Hi everyone!

I'm looking for a Mozart concerto.(almost my first concerto..but i have done several Mozart sonatas before) So i would like to have a technical difficulty order of his concerti and which one will be great for competitions?
I love all of them, especially no 20 21 22 26. My teacher want me to learn 21 but i prefer no20 who is on d min, she told the 20 is a little bit empty and more difficult to 'surpris" the judges. I tried all the first movement in sigh reading and found they are about the same technique level...I don't know if i should choose 20 or 21?? or look at another who fits a competition..
Someone has some for me??
I have no idea about my level, now working on Beethoven sonata op.28, Chopin scherzo no.2 WTC etc..

Thanks in advance.

Léa



what Mozart concert for piano and orquest from 21 to28 is easiest and wonderful?

May 20, 2010, 01:20:17 PM by mayiyo


hi,I´m Marina.. sorry for my english it`s not good.. sorry...
I want to ask a question.. w

what Mozart concert for piano and orquest from 21 to 28 is easiest and wonderful?I play piano just not too much.. but I try to play the best i can..
thanks for your time...
have a nice day...
Marina..



Suggestions for a Mozart Piano Concerto

October 24, 2007, 12:36:28 AM by dmc


Yikes ! I've just been reading the infamous Breadboy thread for the first time (Chopin Fantassie-Impromptu). It seems relative to this thread because of his remark about Mozart being easy. Talk about controversy !

And speaking of Mozart...my teacher is encouraging me to pick a Mozart Piano Concerto to learn with him. First a little background - I'm 50 years old, returning to the piano after about 12-13 years away. I've had sporadic years of lessons (mix of jazz/classical) but lots of gaps in my background. Since starting lessons about 5 weeks ago, I'm close to taming 2 Chopin Preludes (#13 & 21) and a Scarlatti Sonata (K 446). I've also been playing with other pieces on my own time. I told him one of my goals was to improve my sight reading with the aim of tackling bigger pieces down the road. He's probably thinking that performing a PC as a duet will help push me that way. Anyways I'm not familiar with all of the Mozart PCs but I have recordings of #9, 18, 19, 20, 22, 23 & 27 & love every one so I'm sure I'd enjoy them all. I think he said that the later ones are more complex. Now he didn't say to avoid those but I assume he'd want me to start with an early one which might be "easier" (I hate that word) to get my hands around (but I don't know for sure -- we will have to discuss).

So...what I'd apreciate from you folks is some input on what PCs I should look at. Should I try one of the those I've listed above or would I be better off now with an earlier one. If so which would you recommend for Mozart newbie ?

Sorry for the long expose Just wanted to give you some idea where I'm at. Many thanks in advance !



Toughest Mozart Piano Concerto?

May 08, 2005, 02:41:29 AM by apion


Overall, what is the toughest or most impressive Mozart piano concerto musically and technically for the soloist? That is, a concerto which, if performed to perfection, will "wow" the judges like any great romantic/modern concerto by Brahms, Rachmaninov, Prokofiev, Bartok, etc.

Also, what are your thoughts on the most impressive "pre-romantic" piano concertos (Bach, Mozart, Haydn, Weber, Beethoven, Hummel, etc.) both in the technical and musical sense.