Classical Piano Sheet Music to Download and Print

or to View in Your
Mobile Device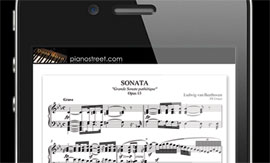 ---
Sign-up now
For instant access to the printable sheet music of
Sonatas by Scriabin
and thousands of other classical piano pieces,
sign up
for a Piano Street Gold Membership!
Alexander Scriabin: Sonatas
The first three of Scriabin's ten published sonatas are in a Romantic style, reminiscent of Chopin and Liszt, but undoubtedly with Scriabin´s unique voice present from the beginning.
The brief Fourth Sonata marks an important transition for the composer: musically, he was moving ever closer toward atonality, while his personal life was marked by the deepening complexity of his theosophical ponderings.
Beginning with the fifth, Scriabin´s sonatas have no key signature and consist of only a single movement. The Seventh Sonata, Scriabin's own favourite and nicknamed "The White Mass", stands on the threshold of serialism.
With the ninth, so-called "Black Mass Sonata", Scriabin's journey to his own particular brand of atonality is complete. The violence and menacing harmonies of this sonata, whose colourful subtitle is the composer´s own, are said to have shocked and frightened even the composer himself.
Sheet Music Downloads:
Posts in the piano forum about Sonatas by Scriabin:

Scriabin editions

September 05, 2009, 04:35:46 AM by kay3087


Which editions are best to purchase? I'm looking for Op. 6 Sonata º1 and Op. 30 Sonata º4.

Don't say Henle Verlag, because they haven't published these yet, and won't until 2012 or something (I wrote to the editor), god damn them.



Good recording of the scriabin sonatas?

February 25, 2007, 11:52:38 AM by evariste


Last Friday, I was lucky enough to see Sokolov play Scriabin's tenth sonata, it was a truly transcendental performance. The bass notes in the first theme were played with such a delicacy, the harmonies this created were pure bliss...
The next day, i listened to Ashkazy's recording and I was, erm, mildly disappointed. The sound of this Decca recording is just awful. The trills (and the high register in general) sound as if Vlad was having some fun with (saucepan) lids, and the sound is blurred and bangy.

Now... My question: what's your favourite recording of the tenth and of Scriabin's sonatas in general?
I already have Pletnev's CD (sonata #10 with the préludes op 11 etc) and Volodos' (Carnegie Hall) but even these interpetations are dwarfed by Sokolov. (NB as far as I know he's only released sonata #3).



best performance for each scriabin sonata?

December 15, 2006, 08:36:55 PM by hodi


want to hear your opinions
which performance is the best for each sonata?
i have the hamelin set which is excellent and some richter recordings.
i have the ashkenzy set too but i think he plays is poorly both techincally and musically.
richter is also superb at scriabin.. especially at the 2,9 sonatas.
now... what's your opinions?



Scriabin is G-O-D !

September 18, 2006, 05:37:51 PM by hodi


HE WROTE THE BEST PIANO SONATAS! (After beethoven)
the most gothic and atmopheric preludes
he had dark romantic style and a total new tonality and structure
he is underrated here
comeon!
the ultimate scriabin thread
talk talk talk just scriabin