Classical Piano Sheet Music to Download and Print

or to View in Your
Mobile Device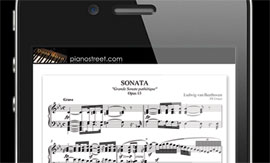 ---
Sign-up now
For instant access to the printable sheet music of
Album for the Young by Tchaikovsky
and thousands of other classical piano pieces,
sign up
for a Piano Street Gold Membership!
Peter Ilyitch Tchaikovsky: Album for the Young
The picturesque little pieces of this collection were all composed during April and May 1878, with the specific aim of enriching children's musical literature. They are all very short, all but two less than a minute in performance.
Styles are varied, with many of the pieces inspired by folk music from Russia, Poland, Italy, Germany and France.
Sheet Music Downloads:
Posts in the piano forum about Album for the Young by Tchaikovsky:

Album for the young, Op. 39

August 03, 2009, 06:41:47 PM by kitty on the keys


I am trying to find the Tchaikovsky, Children's Album, Op. 39. Is it published with a CD? I want the complete set. Thanks for all your help!




Kitty on the keys