Georges Bizet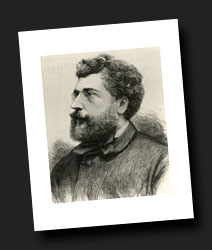 George Bizet(1838-1875) is mainly known as a great opera composer, whose works Les Pêcheurs de Perles, L´Arlésienne and most of all Carmen belong to the core operatic repertoire.
Carmen was not initially well-received but soon received praise from famous contemporaries like Debussy, Saint-Saëns and Tchaikovsky, after which it became something of a cult opera (Brahms is said to have attended over twenty performances of it). However, Bizet did not live to see its success as he died from a heart attack only months after Carmen´s first performance.
Bizet was a highly gifted pianist, but the music he wrote for this instrument has never entered the canon, except perhaps the masterly Jeux d´enfants for four hands. Other works include the Chants du Rhin, Variations chromatiques (admired and recorded by Glenn Gould) and Chasse fantastique, a brilliant scherzo reminiscent of Alkan or Liszt.
Bizet Piano Sheet Music
for digital devices or to download & print
Total pieces by Bizet: 3
ID:68
Forum posts about Georges Bizet