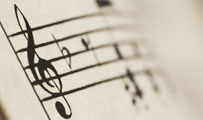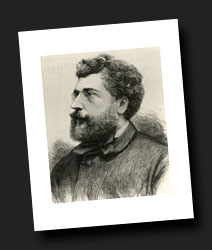 Bizet - Piano Music
George Bizet
(1838-1875) is mainly known as a great opera composer, whose works
Les Pêcheurs de Perles
,
L´Arlésienne
and most of all
Carmen
belong to the core operatic repertoire.
Carmen
was not initially well-received but soon received praise from famous contemporaries like
Debussy
, Saint-Saëns and
Tchaikovsky
, after which it became something of a cult opera (
Brahms
is said to have attended over twenty performances of it). However, Bizet did not live to see its success as he died from a heart attack only months after Carmen´s first performance.
Bizet was a highly gifted pianist, but the music he wrote for this instrument has never entered the canon, except perhaps the masterly Jeux d´enfants for four hands. Other works include the Chants du Rhin, Variations chromatiques (admired and recorded by Glenn Gould) and Chasse fantastique, a brilliant scherzo reminiscent of
Alkan
or
Liszt
.
Piano Sheet music by Georges Bizet to Download
| | | |
| --- | --- | --- |
| Download & Print | View in Mobile Device | For instant access to the printable sheet music of pices by Bizet and thousands of other classical piano pieces, sign up for a Piano Street Gold Membership! |
Total pieces by Bizet: 3
Posts in the piano forum about Bizet:

Re: Any piano solo pieces from Georges Bizet ?

April 21, 2005, 02:12:47 PM by BuyBuy


Bizet did compose a few pieces for solo piano (for duo, you have the famous "Jeux d'enfants").

The Variations Chromatiques is the largest single piano piece, true, but has little musical value frlom my point of view (although Gould considered it was one of the few true piano masterpieces of the last quarter of the XIX century... but we all know that he can be kinda weird). That piece is boring, heavy and long.

On the other hand, Bizet composed a set of piano pieces called "Chants du Rhin" (songs from the Rhine river), which are moderately difficult. It's a shame that they are ignored by most pianists, because they are truly enjoyable little gems. The only recording that I know of is by Jean-Marc Luisada, a French pianist who is not well known in spite of his wonderful interpretations (Faure especially).

Anyone out there has heard of or even played those "Chants du Rhin" ?