Robert Schumann – A Musical and Literary Giant
– a 200th anniversary tribute to one of the greatest piano composers
Several of the great Romantic composers have important anniversaries in 2010 and 2011. Nobody will have missed by now that it's exactly two centuries since Chopin's birth. And in 2011 we will be certain to hear a lot about that other great Romantic piano virtuoso, Franz Liszt. But Robert Schumann was also born in 1810 and has celebrated his 200th birthday this year. Although the Schumann anniversary hasn't exactly attracted the same huge attention as Chopin's, there has been quite a lot of celebrations going on in honour of this important 19th century personality.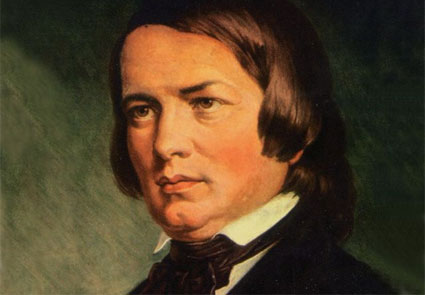 Robert Schumann certainly belongs to the artistic giants of the Romantic era. Not only was he one of the greatest composers of his time, but through his journalism and his great interest in literature he influenced the thought of a whole generation of Romantic artists. His music is a perfect mix of joyful vitality and complex intellectualism. His compositions may at times seem like advanced literary crossword puzzles, but at the same time the music has the directness and naivety that we associate with a child's outlook.
The events leading up to his marriage to Clara Wieck form one of the most famous and touching love affairs in music history. Schumann studied piano with the well-known teacher Friedrich Wieck, whose young daughter Clara was an extremely talented musician. Mr Wieck didn't at all approve of their attachment but after years of despair, the couple was finally able to marry in 1840.
During his time of separation from Clara, Schumann composed a great number of piano pieces, mostly short character works: Fantasiestücke, Album for the Young, Kinderszenen, Three Romances, etc. He had to give up his own pianistic career because of a paralysis of his right hand, caused either by the syphilis that would later claim his sanity, or by his use of a finger-strengthening device. But Clara supplied all the inspiration he needed to keep composing for the instrument.
As a writer and one of the founder of the journal Neue Zeitschrift für Musik he formulated a lot of the thoughts and trends of the Romantic era. Examples of his influence are his articles on Chopin and Brahms, which contributed greatly to the recognition of the genius of these composers.
"Hats off, gentlemen, a genius"
The very first article Schumann wrote was an enthusiastic and very unconventional review of Chopin's Opus 2, a set of variations for piano and orchestra on Mozart's "La ci darem la mano".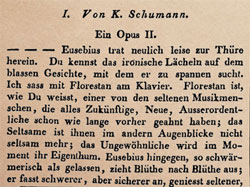 In order to make this highly entertaining text more accessible, we have prepared a new translation of it into English, which we now present to you together with the original article, published in the Allgemeine Musikalische Zeitung, 7 Dec 1831. Read the article and translation here:


An Opus 2 – original article and translation
Listen to the Variations here:
Chopin – Four Concert Pieces
---
Schumann Träumerei – Sheet music to download and print:


---
Links to other interesting resources and articles about Robert Schumann:
Gramophone: Schumann's best-loved piano repertoire matched to recordings
Wikipedia: Robert Schumann
Classical Net: Schumann biography and recommended recordings
Essortment.com: Robert and Clara Schumann – a biography
Project Gutenberg: free e-book, Advice To Young Musicians by Robert Schumann
---
Please post your greetings to Schumann or let us all know how you have celebrated the Schumann anniversary in a comment below!