2010 Chopin Piano Competition Winner: Russia's Avdeeva
Russia's Yulianna Avdeeva won the prestigious 2010 International Frederic Chopin Piano Competition on Wednesday after a three-week musical marathon followed avidly by classical music lovers around the globe. The competition, the oldest of its kind in the world, is held every five years in the Polish capital and has built up an especially enthusiastic following in Asia. A jury that included several world-famous pianists such as Martha Argerich and Kevin Kenner chose Avdeeva, 25, from among 10 finalists after lengthy late-night deliberations at the end of a competition marked by the high quality of its performances.
Ingolf Wunder of Austria and Lukas Geniusas of Russia/Lithuania won joint second place, Russia's Daniil Trifonov came third and Bulgaria's Evgeni Bozhanov fourth.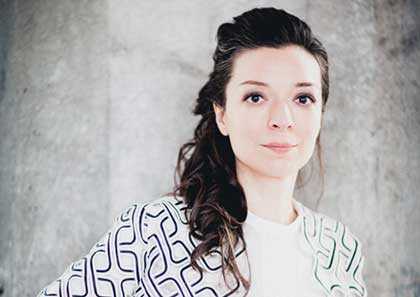 Avdeeva, whose expressive and mature performance of Chopin's Concerto in E minor drew a standing ovation on Tuesday evening, studied in Moscow and is now working as an assistant to a Russian professor at the Hochschule fuer Musik und Theater in Zurich, Switzerland. Avdeeva has performed in more than 20 countries including the United States and Japan and has won a number of prizes.
This year's 16th Chopin competition attracted especially strong interest because it coincided with the 200th anniversary of the composer's birth — to a Polish mother and French father — in a village near Warsaw in 1810. There were some 3,000 events including concerts dedicated to Chopin's bicentenary worldwide in the first half of 2010 alone.
"MYSTIC QUALITY"
Of the 81 original finalists in this year's Chopin Competition, selected after preliminary auditions in the spring, 16 were from Japan and 13 from China, highlighting Asia's increasing clout in the field of Western classical music. However, no Asians were among the final 10 frontrunners playing before the 13-member jury in Warsaw's National Philharmonia this week. That did not seem to cloud the excitement of the many Japanese, Korean and Chinese visitors to Warsaw.
"I have come here (to the Philharmonia) every day since I arrived in Poland. The level of playing is so high," said Misato Ota, a piano teacher from Japan.
"We Japanese love Chopin for the delicacy and the mystic quality of his music," she said, adding that she had wanted Polish finalist Pawel Wakarecy to win the competition.
The oeuvre of Chopin, called "Prince of the Romantics" by his most recent biographer Adam Zamoyski, ranges from elegiac sonatas to lively Mazurka folk dances.
Chopin left Poland at the age of 20 and spent most of his adult life in Paris but he remained a staunch patriot and his work is suffused with nostalgia for his homeland, at that time partitioned between Russia, Austria-Hungary and Prussia. In exile, he counted fellow composers Franz Liszt and Hector Berlioz and artist Eugene Delacroix among his friends. He had a turbulent love affair with the female novelist George Sand. Dogged by poor health, he died in 1849 aged just 39.
Gareth Jones, Warsaw (Reuters Life!)
---