A High Tech Pianist for the Future?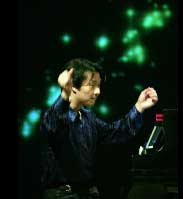 In addition to his activities on the faculty of the Curtis Institute of Music in Philadelphia, pianist Hugh Sung is working to explore the possibilities and creativity of modern technology in music making and performance.
He applies them, in his "Visual Recitals," to promoting and enhancing the wider understanding of music, and to actively engaging the listener at every level. "The Visual Recital" (www.visualrecital.com) is an attempt to help audiences understand and enjoy the syntax of music with visualizations that are scripted and controlled by the musician – a kind of live "Fantasia", so to speak.