This year we are presented an unexpected and longed for Christmas celebration. Now a part of the yearly seasonal signs is NPR's "A Jazz Piano Christmas". With strict distancing protocols at the Kennedy Center's majestic Opera House, John F. Kennedy Center for the Performing Arts, its staff with support from Washington, D.C. city government and NPR Music went ahead to carry out this years edition.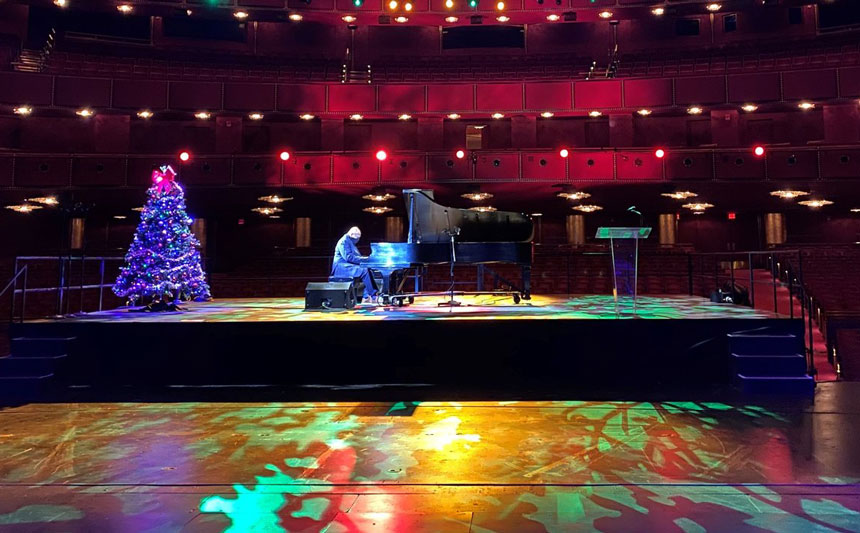 Set list:
REDWOOD
"Sleigh Ride"
"Holiday Feeling" (REDWOOD)
Cory Henry
"Christmas With You" (Cory Henry)
"Misty Christmas" (Cory Henry)
"Someday At Christmas" (Stevie Wonder)
Kenny Barron
"Have Yourself A Merry Little Christmas"
"Silent Night"
"Little Town of Bethlehem"
Masked 50 people sat 30 feet from the performance stage in order to form a gathering sharing the healing powers of music. The pianists this year included the up and coming talent REDWOOD (Sequoia Snyder), who has her finger on the pulse of her generation's sound, the piano and voice of Cory Henry which reveal his roots and passion for music of his childhood time spent in church and the elegant presence of Kenny Barron, considered one of the most influential mainstream jazz pianists since the bebop era.
There was an undercurrent of reverence to this year's performances. Seems the weight of the world wide pandemic – as well as the emotional movements for social justice – fueled many heartfelt moments of quiet contemplation, not to mention the soul-stirring vocals that seemed to cry out for a collective, heartwarming hug to fend off the real world challenges we all face.
/patrick