ABRSM Publishes New Piano Syllabus
Global examination board ABRSM has published a new Piano syllabus for 2013 & 2014. ABRSM is the leading authority on musical assessment with more than 600,000 candidates, in over 90 countries, taking exams every year.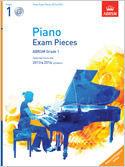 Taking effect from 1 January 2013, the new Piano syllabus feature new repertoire for piano teachers and learners. It offers a colourful range of works from a diverse array of countries including Chinese pieces at Grades 2 and 6, a piece by Venezuelan composer, Federico Ruiz at Grade 4 (his first appearance on an ABRSM syllabus), and a rare Chopin arrangement of a Polish song at Grade 3.
In all, the syllabus comprises 158 newly selected pieces and is supported by new Piano Exam Pieces sheet music and recordings. Further support for piano teachers will be available through a series of seminars to introduce the new repertoire later on this year.
Supporting booklet:
Read more at abrsm.org