ABRSM Releases New Piano Syllabus for 2017/2018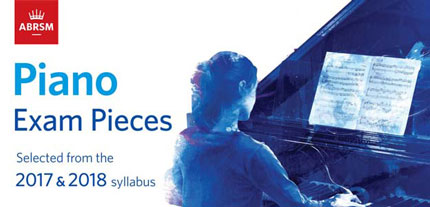 ABRSM has released a new Piano syllabus for candidates taking exams in 2017 and 2018. The syllabus offers a broad selection of inspiring pieces that have been carefully selected to offer variety and new challenges to teachers and learners alike. It features a range of works from composers from around the world.
Penny Milsom, ABRSM's Executive Director: Products and Services, said: "We've listened to and consulted with teachers and candidates to select pieces for our syllabuses that are exciting, imaginative and inspiring to play and teach."
"There's a wide selection of repertoire to suit all learners, with music from the movies, popular classics and future favourites as well as gems by Bach, Mozart, Schumann, Chopin and Schubert. Look out for Rob Hall's Asian Tiger Prowl at Grade 1 and Pete Churchill's sassy new arrangement of the Disney classic, Cruella de Vil, at Grade 6, as well as the well-loved Debussy classic, Dr Gradus ad Parnassum, at Grade 8."
Popular choices from previous syllabuses and pieces and arrangements that have been specially commissioned by ABRSM are complemented by many newly selected works.
Download the complete piano syllabus 2017/2018.
Read a reveiw at pianodao.com