Acclaimed All-Russian Debut Album by Vinnitskaya
At only 26, Anna Vinnitskaya has already established a flourishing international career, both in recital and orchestral performances. In 2007, she won first prize in the Queen Elisabeth Music Competition in Brussels becoming only the second woman in the history of the competition for piano to do so, after Ekaterina Novitskaya in 1968.
NEW! Click the album cover to listen to the complete album: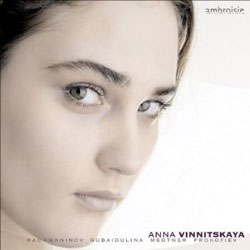 (This is a new feature available for Gold members of pianostreet.com)
Anna Vinnitskaya was born in Novorossijsk, a Russian town next to the black sea, into a family of musicians. She got her first piano lessons at the age of six and played her first full solo recital at the age of nine. Three years later their family moved to Rostov on Don, so that Anna Vinnitskaya could study with Sergej Ossipenko at the Sergej Rachmaninov Conservatoire. During a piano competition in the year 2001 Ralf Nattkemper invited her to the "Hochschule für Musik und Theater Hamburg". From 2002 to 2009 she studied there with Evgeni Koroliov.
New signing and exclusive Naïve Classique artist, she makes her much anticipated debut album on the Ambroisie label featuring an all-Russian programme of piano sonatas by Rachmaninov, Medtner and Prokofiev and a piece by Gubaidulina. This is Anna Vinnitskaya's first ever recording and it has already been met with high critical acclaim. Since its release in France, it was awarded the "Diapason d'Or" (within the "Discoveries" category) and most recently, the "Choc du mois" by Classica Magazine. It was also picked as CHOICE by International Piano Magazine.
Listen to samples here
Listen to Anna Vinnitskaya in Ravel's Gaspard de la Nuit; Scabo
Sheet music of Ravel's Scarbo: