Another Reason to Keep the Piano Lid Open
If you are an art and music aficionado and money isn't a problem, why not start your own grand piano art collection?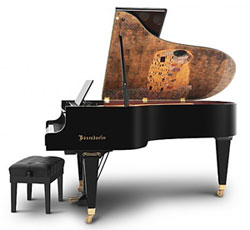 Bösendorfer has chosen 2012 to introduce their new "Artist Series" pianos, and have dedicated it's first edition to Gustav Klimt (1862 – 1918) in order to honor the 150th Anniversary of his birth.
The grand pianos are being made with the cooperation of the Belvedere Museum in Vienna who has the most extensive collection of Klimt paintings in the world. There will be just 25 of the beautifully hand-crafted Klimt models made.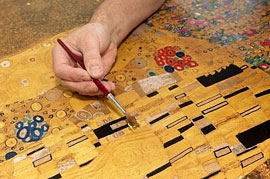 Bösendorfer took Belvedere's high-resolution image of The Kiss and used advanced reprographic techniques to render the painting on the inside of the Model 200 grand piano lid.
Further Klimt-like design elements have also been added to the piano. Inspired by Klimt's use of asymmetrical organic lines, Bösendorfer have created lines, inlaid with real gold leaf, on the music desk and on the legs of the instrument.
Brian Kemble introduces the new limited edition Klimt model at the Musikmesse 2012 in Frankfurt, Germany: