BBC Award for a Life With Chopin
Chopin's piano music does have a prominent place in the classical music repertoire. Janina Fialkowska's Chopin Recital II recording on ATMA Classique confirmed the fact when it recently won the prestigious BBC Music Magazine Award for Best Instrumental Recording of 2012.
The BBC Music Magazine Awards are the only classical music awards in which the main categories are voted for by the public. The shortlist represents the very best of more than 1,300 recordings reviewed by BBC Music Magazine during 2012, and features leading names from the international classical music arena.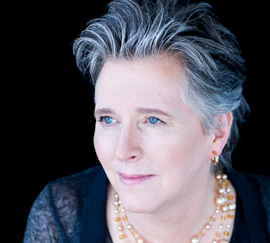 "I'm overwhelmed by the prize," Fialkowska told the Independent. "I've devoted most of my professional life to the music of Chopin and it's nice to have my playing recognized in this way."
Montreal-born Fialkowska, 61, is recognized the world over as one of the great interpreters of the music of Frédéric Chopin, whom she names as her favourite composer. In 1970, she settled in New York and enrolled in the Juilliard School of Music as a student of Sasha Gorodnitzki, later becoming his teaching assistant from 1979-1984. Following her prize-winning performance at the inaugural Arthur Rubinstein International Piano Master Competition held in Tel Aviv in 1974, Arthur Rubinstein became her mentor and launched her international career. Last May, Fialkowska was awarded a Lifetime Achievement Award at the 2012 Governor General's Performing Arts Awards.
This short film artfully defines Janina Fialkowska's imprint in the world of classical music:
Constellation by Patrick Doan

---
Press quotes:
"We have had many celebrated executants in London in this Chopin anniversary year — Zimerman, Pollini and Yundi Li among them — but none has taken my breath away quite like Fialkowska. If you have the chance to hear her, cancel all other appointments." — The Evening Standard
"Fialkowska is formidable…performs with a clarity that sets her apart from the ordinary superstars. " — The Toronto Star
"Fialkowska was always one of those "best-kept secret" pianists, loved by connoisseurs for her tonal refinement and exquisite musical taste, but her ordeal seems to have released a new lease of life in her music-making… the playing is sheer bliss. If you buy one Chopin selection this year, make it Fialkowska's. " — The Sunday Times
---
Recommended links:
Samples from the album
NFB's short film artfully defines Janina Fialkowska's imprint in the world of classical music.
Hear Fialkowska play Chopin´s 2nd Ballade in A flat major Op. 38
Hear samples from Fialkowska´s latest release; Mozart´s Piano Concertos 13 & 14
Fialkowska talks about Chopin
Video from the recording