Any Place, Any Time… Berliner Philharmoniker Launches Digital Concert Hall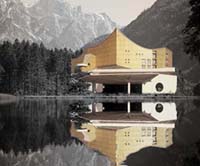 Whether you live in Texas or Tokyo you can now find the world-famous orchestra and its musical partners – Artistic Director Sir Simon Rattle as well as renowned guest conductors and soloists. The video platform will be accessible to the public at www.berliner-philharmoniker.de.
In the first live broadcast on Jan. 6, the Berliner Philharmoniker under Sir Simon Rattle will present a special concert featuring Johannes Brahms' First Symphony and other works.
Audiences in the Digital Concert Hall will be able to hear approximately 30 concerts live every season. After the concert, the live recording can be retrieved from a video archive. Documentaries about the orchestra's work will also be available.
For our Piano Street Blog readers the following concerts with piano soloists might be of particular interest.
January 11 – Murray Perahia in Beethoven's 4th Piano Concerto
February 13 – Schumann's A minor Concerto with Pianist-in-Residence Mitsuko Uchida
May 10 – Beethoven's 3rd Piano Concerto with Lars Vogt
June 6 – Ravel's Concerto for the Left Hand i D major with Pierre-Laurent Aimard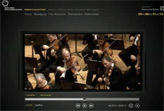 Sir Simon Rattle, chief conductor of the Berliner Philharmoniker: "When the idea of the Digital Concert Hall occurred to us, I was immediately certain that this is the way of the future. I believe it is a marvelous thing for both the orchestra and the public. Furthermore, it is a wonderful feeling to be able to welcome far more people to the Philharmonie than before."
Remote-controlled cameras deliver high-definition recording quality, while State-of-the-Art encoding technology transfers images and sound to the Internet.
One one of the originators of the Digital Concert Hall idea states: "Our primary concern is to achieve presentation and broadcasting quality that meets our artistic demands. We have installed excellent recording and studio technology in the Philharmonie in order to record our concerts as authentically and vividly as possible."
Music critics said it would help to secure classical music's place in the multimedia world and has the potential to widen the audience from a few hundred to millions around the world.
It will cost €9.90 to watch a single live concert, or have 48 hours access to one from the archives. However, there will also be a season ticket for €149, offering unlimited access to everything.