Breaking News: Mysterious Mozart Cadenza Identified!
During his current work recording piano music by the Italian composer Andrea Luchesi — a contemporary of W. A. Mozart — pianist Roberto Plano made a most unusual and rare discovery.
Patrick Jovell: We know you as the First Prize Winner of the 2001 Cleveland International Piano Competition and as finalist at the Twelfth Van Cliburn International Piano Competition of 2005. We also know of roughly 20 available CDs. We would, however, like to ask you about your unique discovery. We understand that you made this discovery while working on a recent recording of the music of Andrea Luchesi, a contemporary of Mozart who lived from 1741-1801. Can you tell us the story about what you have found?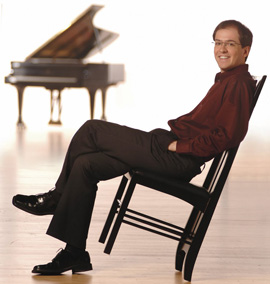 Roberto Plano: Yes, actually it's not easy to make new discoveries. I didn't think that I could make one… The story is simple. I was getting ready for the world première recording of the two Keyboard Concertos by Andrea Luchesi, an Italian composer that I started to re-discover with a CD released on the Concerto label last year. One of these Concertos needed a Cadenza that was not written by the composer, so I decided to write my own. But just before the recording, a few Luchesi-fans let me know that Mozart probably wrote a Cadenza for the Concerto in F Major. This Cadenza had not yet been discovered. This news intrigued me, so I looked on the Digital Mozart Edition on the Mozarteum webpage for all the Cadenzas written by Mozart. I found two volumes. One contained some Cadenzas he wrote for his own Concertos, and one contained Cadenzas written for Concertos by other composers. In this last volume I noticed a Cadenza in F Major listed as a Cadenza for an unknown concerto. Since the key was the same as the Luchesi Concerto I played it, and found out that the musical material was undoubtedly the same! Mozart wrote that Cadenza for the Luchesi Concerto, and this was never discovered before! You can imagine my surprise. I was also aware that this Mozart music, with its missing Concerto, was probably never played in modern times. So, I learned it and recorded it.
Extract from Mozart's cadenza K 624: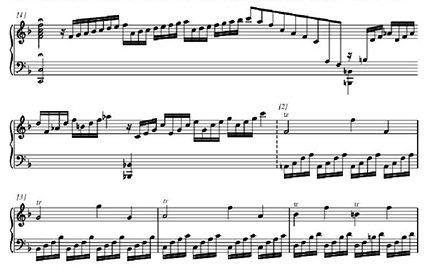 PJ: You have recently released an album with Andrea Luchesi Sonatas & Rondos. His compositional style could be described as being a mix of Mozart, Scarlatti and Galuppi, but what specifically has attracted your attention to his music?
RP: It's exactly what you say that attracted me, together with the fact that these Sonatas were never performed on a modern piano. This seemed crazy to me since we regularly play the music of Luchesi's contemporaries on a piano. These Sonatas are a mix between Scarlatti and Haydn, between Galuppi and Mozart. Music that could be similar to the Empfindsamer and Galant styles, but also close to the Classical style, especially in the slow movements. Listen for example to the Andante of the Sonata in C Major by Luchesi and the Andante of the Sonata K 545 in C Major by Mozart, and you will hear many similarities. Mozart wrote that Andante many years after Luchesi's.
PJ: How would you sum up Andrea Luchesi´s influence? Luchesi was nominated official court Kapellmeister in Bonn in 1774. He was also primarily a teaching composer/organist with students like Reicha, Ries, Roemberg, and young Beethoven. What do we know about his interaction with the Mozart family?
RP: It's incredible to see how influential Luchesi was during his time. The Bonn Music Chapel was equally important at the time when Luchesi was Kapellmeister. The young Beethoven played the viola in the orchestra with Luchesi conducting. Luchesi was also teaching other musicians that would be incredibly influential in the future, such as Anton Reicha. Reicha eventually became an important music theorist of many new musical forms. In Paris, he taught sonata form to great musicians like Berlioz, Liszt, Gounod and Franck. Luchesi led the Bonn Chapel to a great role in the music of that time, which is something that his predecessor, Beethoven's grandfather, apparently didn't do. Before going to Bonn, he had earned great fame in Italy and this was why the young Mozart paid him a visit during his trip to Italy with his father in 1771. Mozart liked Luchesi's style that much so he asked him for a copy of his Concerto in F, which is one of the concertos I recorded. It is a piece he played in concert for many years after that, and he also suggested his sister Nannerl to use it with her students.
PJ: Luchesi´s works are said to be circulated in the name of Haydn, Mozart, and others since 1763. What is the story behind this? Is it true that German musicology is supposed to have misattributed them?
RP: This is the thriller beyond the life of Luchesi. I'm not a musicologist, so I cannot know what really happened during Luchesi's time. What I know is that the copyright didn't exist at that time, and there are cases where musicologists discovered that works attributed to one composer were not at all written by him. This happened, for instance, with Haydn´s Symphonies. Once, there were many more considered than the 104 we count nowadays. What I don't understand is why we have many Luchesi compositions from his Italian years and very, very few from his German period–where did his compositions written after 1771 go? And it's also strange that German musicologists never mentioned Luchesi's name associated with Mozart and Beethoven… nor discovered that Mozart wrote a Cadenza for his F major Concerto!
PJ: Can you tell us about your upcoming recording plans for the Luchesi project?
RP: Between the first CD dedicated to Luchesi´s Sonatas and Rondos, and the one with the Keyboard Concertos to be released this fall, I also recorded a CD for the Italian music magazine Amadeus. It showcases Luchesi's Sonatas Op. 1, where his development as a composer is obvious. It is out this spring.
Roberto Plano plays Andrea Luchesi: Piano Sonatas & Rondos