British Excellence in New Tansman Piano Music Release
Chandos has been attentive in promoting the orchestral works of Alexandre Tansman, who due to the vagaries of fashion has to a great extent been ignored. They now embark on the piano music and a deeply personal project for soloist Margaret Fingerhut.

NEW! Click the album covers to listen to the complete album: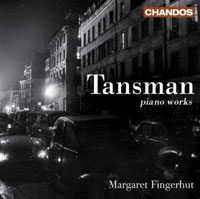 (This is a new feature available for Gold members of pianostreet.com)
"My curiosity about the piano music of Tansman began over 20 years ago when I encountered the delightfully languid Berceuse he wrote for the album of Hommages to Roussel, and which I recorded for Chandos. The fact that he was born in Lodz, Poland, where my great-grandparents also came from, spurred me on to find out more about him, and since then I have been assiduously collecting his piano works – quite a task as it turns out that in the course of his long composing career Tansman was nothing if not prolific!" says Margaret Fingerhut.
Well known for her recordings with British music, Margaret Fingerhut has performed in many different countries and has become well-known for her innovative recital programmes which combine popular and unusual repertoire. As a concerto soloist she has played with all the UK's major orchestras, working with eminent conductors such as Vernon Handley, Rudolf Barshai, Leonard Slatkin, Paul Daniel and Sir Edward Downes, and performing in venues such as the Royal Festival Hall, Royal Albert Hall and the Barbican. Margaret's extensive discography for Chandos has received worldwide critical acclaim and is regularly played on international radio networks. Her discs include works by Bax, Berkeley, Bloch, Dukas, Falla, Grieg, Howells, Leighton, Novak, Stanford and Suk. Many have been selected as the Gramophone's Critics' Choice, and two of her Bax recordings were nominated for Gramophone awards. She is often heard on BBC Radio 3 and Classic FM, and she has also appeared on film and television.
Also listen to Margaret Fingerhut playing Milly Balakirev´s Toccata in c sharp minor: