Chopin is more popular than football – at least in Warsaw
More than 3 million people visit Warsaw each year. Of those, about 200,000 visit the museum dedicated to Poland's national music hero: Frédéric Chopin.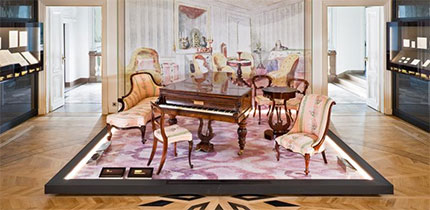 Officials from the Warsaw Tourist Office have set in motion a plan to bolster both existing and future tourism numbers. Along with tour businesses and vacation planners, their goal is to market Chopin himself as a brand and highlight the composer's extreme Polish patriotism. They've all been working behind the scenes for more than five years, and their efforts have borne fruit. In fact, more people came to see Chopin exhibits in Poland's capital than came to see football matches during the 2012 European Championship.
Be a Chopin Tourist – take the 3 minute tour in the new museum!
Aside from the museum, there are precious few places left in Warsaw regarding Chopin. German music lovers can visit Beethoven's house in Bonn. In Austria, musical pilgrims can tour Mozart's birthplace. Russians can see Tchaikovsky's home in Votkinsk. In Warsaw, Chopin's residence is now a paved-over square that contains only a tomb of an unknown soldier. The the palace where Chopin grew up was destroyed during WW2 to punish the Poles for the Warsaw Uprising. Because the Poles have never rebuilt the palace to any extent, all of the efforts to boost "Chopin tourism" seem to smack of self-congratulation. Perhaps it is fitting, in a way. Chopin himself was such a staunch patriot that, after leaving his home country at the age of 20 because of the Russian occupation, he never returned. He is buried in Paris, his tomb adorned with cough drops to soothe his spiritual coughing fits.
Chopin Competition 2015
Central to this year's musical tourism-building efforts is the 17th International Fryderyk Chopin Competition, which takes place every five years. More than 400 piano-playing applicants from all over the world, especially from Asia, are excitedly and anxiously seeking one of the 160 slots in the elimination round and 80 in the finals. The final concerts of this competition usually draws audiences that are at least 10,000 strong.
Despite Warsaw's lack of physical Chopin landmarks, the efforts of the board of tourism and travel companies are erecting a sort of virtual memorial. The concerts, competition and tie-ins to the Chopin Museum all serve to raise awareness of Chopin's incalculable influence on the composition of piano music and to honor a man whose fierce pride in his homeland never faltered. That influence has reached all corners of the classical-music world, as can be seen by the variety of nationalities in the applicants to this year's competition: 88 from Japan, 77 from China and Taiwan, 56 from Poland, 35 from Russian and 34 from the United States. All of them will be competing for the 30,000 Euro top prize and 25,000 Euro second prize.
Competition schedule:
13-24 April: Preliminary round rehearsals.
80 of 160 pianists will be qualified to Competition recitals
1-23 October: Competition recitals and finals
Follow the elimination round live:
https://www.youtube.com/channel/UCSTXol20Q01Uj-U5Yp3IqFg
The official competition website:
http://chopincompetition2015.com