Classical Music Everywhere – Interview with Simone Dinnerstein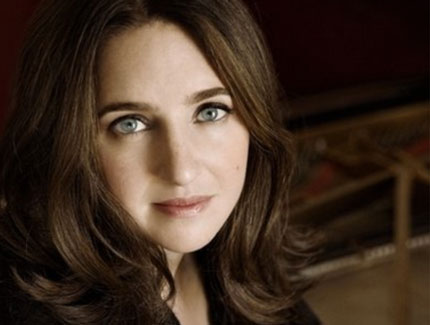 Simone Dinnerstein is trying to boost awareness and appreciation of classical music in both children and adults in places as different as New York City and Havana, Cuba. On her recent trip to Cuba, she noted how the string players in Cuba's National Youth Orchestra couldn't afford strings. Despite the handicap of using telephone wires as a substitute, the young people were playing with great sensitivity and musicianship. She was inspired during her performance of a Mozart concerto with that orchestra, and she seeks to bring that inspiration back to the United States.
Hear NPR's David Greene speak to Dinnerstein about her trip, her methods for teaching kids about Baroque music, and her past four difficult years:

Even as her excitement and forward thinking support her teaching efforts back at home, personal struggles also affect her and her art. Speaking candidly about multiple miscarriages and other difficulties with having another child, Dinnerstein relates how such tragedies are woven into her musical psyche.
In much the same way as a method actor or actress delves into, and even lives vicariously through, a part, Dinnerstein draws on her experiences to communicate more effectively with the audience. Her close friend, Philip Lasser, composed a piano concerto for her. Coincidentally, the period of time he spent writing it exactly matched the period Dinnerstein endured her fertility challenges. It's called "The Circle and the Child," and although it's not directly related to Dinnerstein's problems, it signifies the cycle of life and how it affects people in various ways.
Bachpacking to School
Dinnerstein introduces Bach's Inventions to a room full of schoolchildren:
New album celebrating the transatlantic link
Earlier this year Sony Classical released Dinnerstein's newest album, Broadway-Lafayette. The music on this album celebrates the time-honored transatlantic link between France and America through the music of George Gershwin, Maurice Ravel, and Philip Lasser