David Klavins Exploring the Limits of Piano Construction
Many a pianist have heard about David Klavins, the German-Latvian piano maker. Back in 1987, he introduced the world's largest upright piano; Model 370, which is two floors high. German musician Nils Frahm recorded an album on it, and the proceeds helped finance Klavins' next project which was building an even bigger piano. The collaboration with Nils Frahm has since then continued and recently a completely different piano, the UNA CORDA model was created in an interaction between Frahm's musical and sonic ideas and Klavins' vast experiences as an instrument builder.
World's largest piano unveiled this week!
The mighty Klavins Vertical Concert Grand brings out new sound possibilities by means of the piano in a magnified context and introduces a new dimension of dynamics and timbre to the world of pianos. It is therefor not impossible to call it an instrument entirely without compromise.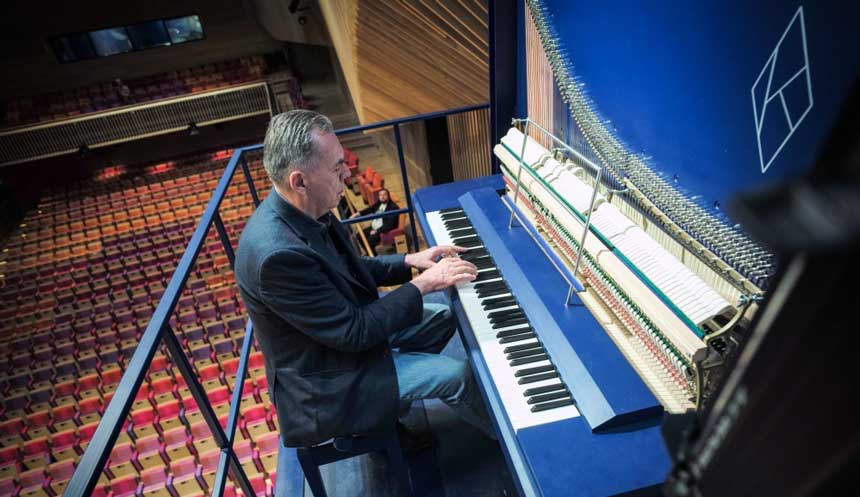 In May 2019 the latest Klavins Vertical Concert Grand, the M470i, was installed at its destination, the brand-new concert hall in the city of Ventspils, Latvia. The 470i Vertical Concert Grand piano, has strings that are 4.7 meters long. On display to the public for the first time on Friday August 2, the instrument has already created a buzz among piano enthusiasts.
On the other hand, he UNA CORDA faithfully captures the special sound signature of a custom-made contemporary piano, but with just one string per key. The instrument allows you to craft melodies for film or simply introducing fresh elements into electronic, pop, or jazz, promising a tone unlike anything audiences have ever heard before, bringing on a celestial all-over sound character.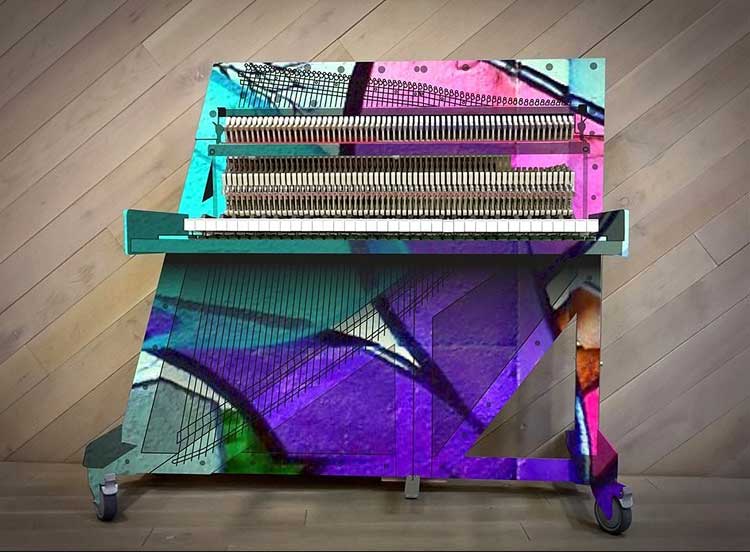 Moreover, the UNA CORDA has an open body design, double-lowered and rib-less soundboard, a tone modulator and a stainless steel frame. It is also built without any chemicals or materials that endanger the environment.
Interview with David Klavins
Piano Street's Patrick Jovell was very happy to have the chance to talk with David Klavins about his latest innovations.
Piano Street: You are an instrument builder and there are many brands on the market. Which philosophy have you nurtured during your years a caftsman?
David Klavins: My philosophy in piano building has been formed by the understanding that today's pianos are essentially built by principles that were established more than 100 years ago and remain unchanged even today. The general idea of pianos are constrained by the possibilities and best understanding of those times. My approach from the onset was to rethink the piano design, to find out whether totally different solutions may be at hand that were not existing in the 19th century. Quite early in my professional career I came to the understanding that the shape of the grand piano, namely of its soundboard (which is a consequence of the grand pianos' design) has acoustic disadvantages, as well as I reached the conclusion that the concert grand piano is too small in general, to live up to the typical sizes of concert halls of today. So I decided that I want to build pianos of my own design, strictly driven by the principle of "form follows function".
PS: You started a collaboration with Nils Frahm already back when you built the world's largest upright piano and it continued when you planned the creation of a Una Corda piano. Can you tell us from what base you formed your ideas together and how they developed during the process?
DK: Meeting Nils Frahm marked a significant turning point in my work. Because of his deep interest in original, new sounds, especially that of pianos, we found common ground quickly. While discussing the aspects of acoustic pianos that might be improved upon, one of these being its horrendous weight, I recalled an idea of mine that I had developed 20 years ago, to design an Una Corda piano. Nils instantly understood, as his own ideas resonated with this concept, and after we had thoroughly discussed the basic elements of the Una Corda, he commissioned me to build one. During the design- and building process we discussed step by step all kind of factors, including the visual design, and mainly thanks to his input it turned out being a piano that represents a minimalist ideal. Based on the success of the Una Corda piano, our cooperation intensified, and we took on a bigger project – building the M450 Vertical Concert Grand, which is now hosted at his studio at the Funkhaus Berlin.
PS: Can you explain how the interspersed tone modulator works in action?
DK: The tone modulator is designed the way that different type of materials can be attached to an aluminum rail by Velcro, which allows to easily switch from one material to another, or even equip the rail with a multitude of different materials for different tones / registers. In effect, these materials are placed between the piano hammers and the strings, which generates different colors of sound, depending on the characteristics of the modulation materials attached.
PS: In times of eco orientation and sustainability, the UNA CORDA is built with this in mind. Which manufacturing processes do you have to engage in in order to stay eco friendly?
DK: We had in mind to stay free of lacquer, chemical glues, and chemical paints, which was one major factor leading to the use of a stainless steel frame as the sole element to pick up the string tension and serve as the instrument's body. Abandoning the idea of a piano case (furniture) in part also serves the eco-friendliness of the Una Corda piano, although the main reason for the "naked" design is not to suffocate the sound by putting it inside a wooden box. The soundboard of traditional pianos is typically coated by lacquer, which we substitute by natural beeswax, for protecting the soundboard wood against excessive humidity. In effect all materials used at the Una Corda piano, and during the building process, are purely organic.
PS: Some people have said that the joy and curse of the piano is the fact that we always want it to sound as other instruments. Modern instrument critics also think that the modern instrument is too homogenized and doesn't reflect the ideas of classical and romantic composers. What will happen to instrument making in the future?
DK: My hope is to inspire other piano builders to follow suit and think of new variations of the acoustic piano, in particular regarding sound design. The fact that the Una Corda piano is received so well and highly appreciated especially by composers, is a strong indicator that users are increasingly asking for new sound characteristics of the piano. While most of the large piano manufacturing companies are, and most likely will remain, stuck to their traditional ways of piano building, I see a good chance that new, smaller companies arise, in light of the vast options that the modern technologies and materials of today are offering.
PS: We know that Mr. Frahm and his work is constantly looking for innovations. Do you have further project ideas coming up in the future?
DK: Yes, we indeed are working on developing further ideas of altering the piano sound, by design, by the materials used, and also by adding digital and electronic components to the analog acoustic concept of the piano, to offer a wider range of sound effects, for creative pianists and composers who appreciate innovation.
Read more:
laughingsquid.com/tallest-concert-grand-piano
native-instruments.com/en/products/komplete/keys/una-corda
klavins-pianos.com