Elisabeth Leonskaja In Conversation
On May 13-15 Malmö Symphony Orchestra celebrated Johannes Brahms in their brand new acousitically praised concert hall named "Malmö Live" in Malmö, Sweden. The orchestra's chief conductor Marc Soustrot performed the complete symphonies and invited world renowned performers like the Capucons and Nikolaj Znaider for the concertos including the legendary pianist Elisabeth Leonskaja who played both piano concertos at the very same concert. With the assistance of the orchestra's bassoonist Christian Davidsson, Piano Street talked to Ms. Leonskaja after one of the rehearsals.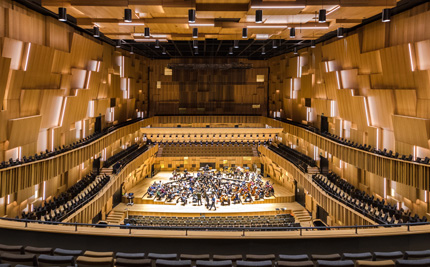 Piano Street: The D minor concerto and the B-flat major show an enormous span in Brahms' composition cycle. Having played both concertos such for a long time as you have, how do you adjust to the differences of the works?
Elisabeth Leonskaja: Yes, really, this music follows me or rather; I have followed this music all my life. I learned and played the second concerto already when I was 20, and the first concerto I learned much later, but I did play them a lot and I also played them both together – in one program.
I think this is really a challenge and this is a very interesting idea to have them at the same time both together. To see which contrast there is between the young Brahms, how he takes reality. The first concerto is really very, very dramatic. This is so because Schumann died and it was written just after this happened. The first moment for example refers to this. It starts with timpani and it means very tragic and very dramatic death news for Brahms. Also the tempo of the first moment is maestoso, not allegro, allegro moderato, or allegro something, but maestoso. The second movement is choral and third movement is really like the life itself.
Also, the relationship between piano and orchestra is different in the second concerto. Here, you have more space where the piano is playing solo and then continues with orchestra so this relationship in the second concerto is very different. For me this is like macro chamber music. The piano is absolutely integrated with the orchestra and if we lose one moment of the playing together, the line is broken and this is why it's so important to have good playing partners in this concerto. In the second concerto Brahms had enough experience in life and writing music, so this is really a great maestro who knows how to create big form. The second concerto is like life, like the nature, and in the first movement sometimes, although also in the last movement, I feel like we are in the forest. We are in the plain air.
PS: Yes, it reminds me too about the 6th symphony (Pastorale) by Beethoven. Like, from nature, you feel the connection and the same kind of ambience.
EL: Absolutely, like this feeling, yes. This is, I'll say it in German; Diese Zergehen mit der Natur, diese Vereinigung.
PS: The D minor concerto was a failure at its premier, but it is a paramount repertoire work today, along with the greatest interpreters. How has Brahms playing developed during the 20th century?
EL: I think the Brahms has absolutely a direct way to the heart of the people and of musicians. My feeling is to understand Brahms, of course we have to work on this music, on polyphony, on many, many stuctural things but I think to feel this music it comes very naturally.
PS: Do you think there has been a change during this last century for instance in tempi?
EL: Tempi will change in all music because of time itself. I think so, I'm sure that at the time of Brahms, they played it much more romantically.
PS: Do you feel comfortable with the tempi nowadays and for instance in the interpretation in what we have rehearsed today?
EL: Yes, absolutely, me and maestro Soustrot absolutely agree on everything.
PS: Many pianists prefer not to play Brahms, what do you find essential in good and convincing Brahms playing?
EL: Probably, the pianists which don't like to play Brahms, they like to have success, and they are thinking it can be achieved with Rachmaninoff or with Liszt. I don't understand the pianists which prefer not to play Brahms. I think this is an absolutely important side of our repertoire. I don't understand these pianists. We have so many different works by Brahms, he has so many faces in his piano works. I played all sonatas, I played all late Brahms, I played chamber music. I think this is hard not to do it. This is no discussion to play or not to play, it's more discussion to be or not to be. I think the people need absolutely the music by Brahms.
PS: The Russian school of piano playing is perhaps the most universal of them all. In history we have seen monumental interpretations by Russian and Soviet artists. Which is the main difference in sound production in Brahms playing by Russian performers and others?
EL: This cannot be a direct answer or just simple answer, because it has to do with our language, with our culture, how we live. The Russians are very open, and very dynamic which is not really the sign of other nationalities. This also helps us to be very free, to open up in the music. Extravert. Our big culture and our composers – great composers – they were pianists also. Our repertoire is very romantic and very virtuosic so our school went with this music. Same like Austrian or German pianists, they grow up with Mozart, Beethoven, Haydn and then developed a different art of sound and technique. We Russians, we play a lot of Russian music, so we need big sound, open sound. Our nation sing a lot. This is inside of us.
PS: We are talking about a deep connection inside?
EL: Yes, a natural connection. It's not intellectual. It comes absolutely natural, the way we meet music.
PS: In that sense, it's a bit like folklore.
EL: Yes, there is absolutely different kinds of music that the people need and enjoy but it's just music. Fun music or good music, people need it. You hear it all day on the radio.
PS: Once I heard a famous piano technician state that the best D minor concerto has to be played on a Steinway. Do you have an instrument preference when it comes to the Brahms concertos?
EL: You know, Steinway is very lucky because after WW2, all other brands did not exist anymore. Everything was torn to pieces but Steinway could continue to produce and sell. So they have a longer experience on stage. In this sense, it is of course the best instrument but I think Yamaha and Fazioli work very seriously to get better results. But of course, Steinway is for the big halls and just in the quality, it's a very, very good instrument.
PS: Let's say, if you have the best Steinway versus the best Boesendorfer…
EL: The very best Boesendorfer doesn't exist.
PS: How do you mean?
EL: Boesendorfer used to be an absolutely different instrument, it used to be a very nice, very charming and really with big sound. Also with a big sound, but after the war, the sound is for my taste empty. Boesendorfer has now really very good expert people and they are working on it. And I played one last year, it is good, not bad. One day it will be on the stage.
PS: What do you think about the instrument you have chosen here in our hall?
EL: Very good, the sound was very good, the technician will adjust a little, it's just regulation, but I do like the sound. The instrument number is from a very good period of Steinway makes.
PS: Thank you very much for taking the time for this short interview.
---
Hear Elisabeth Leonskaja play Brahms' B-flat major concerto with Kurt Sanderling and the Danish Radio Symphony Orchestra in 1997:

mvt 1: Allegro non troppo


mvt 2: Allegro appassionato


mvt 3: Andante


mvt 4: Allegretto grazioso
Brahms was an absolute master of composing for the piano. He knew the sonorities and possibilities of the instrument so well. As this expansive, four-movement second concerto demonstrates, he was able to blend beauty with fire and tenderness with drama in the most remarkable of ways adding the quality of the piano being an active sonic member of the entire orchestral symphonic idea.