Explosive Piano and Percussion Rendezvous in Beijing
The rare combination of Yuja Wang and famous drummer and multi-percussionist Martin Grubinger performed together at the Concert Hall of NCPA in Beijing on August 18th.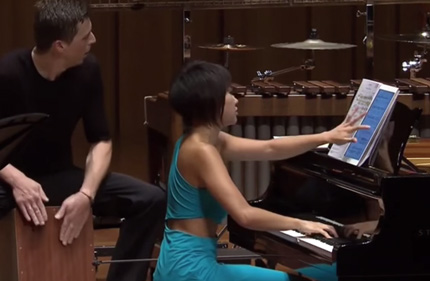 As an artist-in-residence Yuja Wang returned to her homeland to form a unique musical partnership with the famous Austrian percussionist. With her outstanding technical and musical projection Wang belongs to a select group of performers capable of generating pure stage electricity.
Nicknamed "The Wizard of Percussion", Grubinger has managed to transform the idea of percussion concerts to include totally new musical experiences. His repertoire reveals a wide spectrum including chamber constellations and many composers such as Avner Dorman, Friedrich Cerha and Tan Dun has written works for him. His breathtaking percussion show involving freerunners and breakdancers, "Free My Way", will go in its second year.
In this exceptional and particular formation, a special version of Bartók's Sonata for Two Pianos and Percussion was presented along with "One Study One Summary" by John Psathas.