Grand Style Liszt with Bererzovsky
NEW! Click the album cover to listen to the complete album: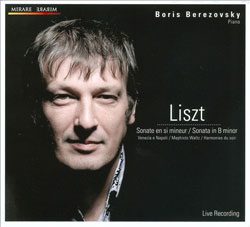 (This is a new feature available for Gold members of pianostreet.com)
This CD, a collection of live recordings taken from performances at the Royal Festival Hall and the Festival de la Grange de Meslay, provides yet another example of Boris Berezovsky's stunning virtuosity and musicality. A Liszt recital, the disc features the famous Sonata in B Minor, often considered Liszt's greatest composition for solo piano. Other works include Harmonies du soir, Venezia e Napoli and the Mephisto Waltz No. 1. Berezovsky closes the disc with one encore, the Chopin Waltz, Op.42. Born in Moscow in 1969, Boris Berezovsky studied at the Moscow Conservatory with Eliso Virsaladze and privately with Alexander Satz. Following his London debut at the Wigmore Hall in 1988, The Times described him as "an artist of exceptional promise, a player of dazzling virtuosity and formidable power"; two years later that promise was fulfilled when he won the Gold Medal at the 1990 International Tchaikovsky Competition in Moscow.
The program is successfully balanced between the weighty Piano Sonata in B minor and the colorful travel works that follow. Hearing the three pieces collectively titled Venezia e Napoli (Venice and Naples), from the Années de pélerinage (The Years of Pilgrimage) series, one is reminded by Berezovsky's lyrical readings that these two cities, separated even today by a long drive on the autostrada, suggested the height of sophisticated adventure on the part of one who had visited them both and could musically evoke their gondoliers, songs, and tarantella dances. Berezovsky's exciting reading of the Sonata in B minor is a tense performance with a great deal of forward momentum – making the work into more a true sonata composition and less the quasi-improvisatory fantasy it often becomes. A very fine hour of Liszt, with strong graphic design framing notes in French, English, and German.
Boris Berezovsky plays Liszt´s Mephisto Waltz No. 1 live from Schwetzinger Festspiele in 2001: