The Complete Liszt Piano Music with Leslie Howard to be released in February 2011
In 1986, to mark the centenary of Franz Liszt's death, Leslie Howard gave a series of ten Liszt recitals in London's Wigmore Hall. By excluding Liszt's arrangements (fantasies and transcriptions) of other composers' works, and by selecting only the final versions of Liszt's original works for solo piano, Howard was able to represent Liszt's entire solo piano oeuvre in these mammoth recital programmes.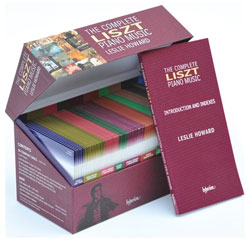 The founder and Managing Director of Hyperion Records was present at these recitals, and invited Howard to record for the label. This resulted in the largest recording project ever undertaken by a recording artist (including pop artists) – that of the complete music for solo piano of Liszt. All Liszt's versions of his piano music were included, including more than 300 premiere performances and recordings, and pieces unheard since Liszt's lifetime, and also all Liszt's arrangements of other composers' works. Four discs were given to Liszt's seventeen works for piano and orchestra, about half of which were premiere recordings made from unpublished manuscripts.
The series ran at first to 94 full-length CDs, and earned Howard a place in the Guinness Book Of Records. (The second volume of works for piano and orchestra included a bonus disc, not counted in the series numbering, which contained Ungarische Zigeunerweisen, a work for piano and orchestra by Liszt's favourite female student Sophie Menter: Liszt's exact involvement in the work is unknown, but he probably helped Menter in the composition of the solo part in the year before his death; the work was orchestrated seven years later by Menter's friend Pyotr Ilyich Tchaikovsky, who conducted Menter in the premiere the following year).
The last disc of the Liszt series was recorded in December 1998, and released on 22 October 1999, Liszt's birthday. Since completion of the project, two supplementary volumes have been released as further Liszt manuscripts have come to light. And a double-disc third supplementary volume has been recorded, and will be released in February 2011, bringing the total number of CDs in the series to 99.
Read more an listen to samples on Hyperion Records:
Liszt: The Complete Piano Music
/patrick