Hannes Minnaar: The Path to Becoming a Concert Pianist
In part two of the three-part special on building a career as a professional pianist, Piano Street's guest writer Alexander Buskermolen spoke with Dutch pianist Hannes Minnaar about his education, vision on personal musical development, and the challenges he faces as an international performer.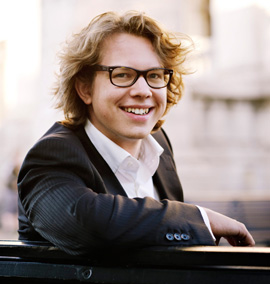 Hannes Minnaar, who was born in 1984, is one of Holland's most exciting and successful pianists. After winning third prize at the Queen Elisabeth Competition in 2010, his career took flight. Hannes Minnaar currently plays with orchestras like The Royal Concertgebouw Orchestra, The National Orchestra of Belgium and the Orchestre de la Suisse Romande. He worked with Herbert Blomstedt and Marin Alsop during those collaborations.

Alexander Buskermolen: To start off, could you describe your musical educational path in general? Please describe your path from your first piano lessons until now. Also, who were your teachers? What did they contribute to your development?
Hannes Minnaar: My first encounter with classical music was at the age of four when I listened to classical records at my grandparents. I wanted piano lessons for years, and my parents finally decided the time was right for me to start playing the piano. Well, to be exact, it was a keyboard and not really the piano. After starting lessons with the neighborhood teacher, it became pretty clear after two years that it was time to take the next step and go to music school. By this time, I was eight years old and my hunger for piano music was growing. While I was learning my first Clementi Sonatinas with my new piano teacher, I also made many trips to the local library to get Chopin's Polonaises and Debussy's Suite Bergamasque. Funnily enough, the Chopin Military Polonaise wasn't the biggest problem. It was Clair de Lune with five flats!
After having three different teachers in four years, it was time to take a big step in my piano education. Since I was not old enough for the young talent class at the Conservatory of Zwolle, my parents and I decided to have private lessons with one of the most influential teachers of my life: Marien van Nieukerken. Now things started to become serious!
As I started my piano lessons with Marien, I learned about the tough side of becoming a pianist: playing Czerny etudes, raising the standard of technique, and learning music by heart for the very first time. During my lessons with Marien van Nieukerken, I realized that I really wanted to become a professional pianist. I couldn't have wished for a better teacher to prepare myself for a career in music! He stayed with me up until I was accepted for a course of study on my way to a professional career.
When I started my professional musical education at the Conservatory of Amsterdam, I was very fortunate to have Jan Wijn as my teacher. The lessons with him were sometimes much different than the piano lessons I had had before. The biggest contribution that Jan Wijn made teach me to control the relaxation. Before that, I used to play nearly everything with just the fingers. I used no wrist or arm movement whatsoever. I simply couldn't relax my arms as they hit the piano. The funny thing is, up until that point I had played a lot of repertoire that would let me get away with this kind of vertical piano playing. Later, when I started to play more Ravel and Rachmaninoff, I was able to benefit from this new technique and relaxation of the arms.
AB: Chronologically, which composers, methods, and compositions have specifically contributed to a certain technical or musical capability? Which piano methods did you encounter during your musical education?
HM: Like many Dutch kids from my generation, I started with the books of Folk Dean–this was the alias for the Dutch composer Theo Ettema, who lived from 1906-1991. After approximately two years, I started playing Clementi Sonatines, then Mozart Sonatas, Schubert Impromptus and even Brahms' Opus 117. During this time, I also loved to play everything that I knew from television and radio.
With Marien van Nieukerken, I started to play Czerny Etudes, some unknown American Piano Sonatas, Chopin Etudes a lot of interesting but relatively unknown stuff, like pieces by Gottschalk, Ray Green and Simeon ten Holt. To be honest, 20th century music was something I appreciated more than, let's say, an early Sonata by Beethoven.
During my time at the Conservatory of Amsterdam I also studied the organ, so I was attracted naturally to play a lot of Bach. Other composers that were part of my routine were Beethoven, Rachmaninoff, Chopin, and Ravel.
AB: In November 2011, you performed Rachmaninoff's 3rd Piano Concerto. This work is known for its extremely difficult score and technical challenges. Technically and mentally, how did you approach this first encounter with this musical milestone?
HM: After I played in the finals of the Queen Elisabeth Competition in 2010, a couple of orchestras asked me to play a Concerto with them. Of course, these orchestras have their wishes about which Concertos to play. Rachmaninoff's Third Concerto was one of them. For me, it was time to take on this challenge and try to master it in a relatively short amount of time. I was already in the mood because I've performed Rachmaninoff's First Sonata many times. I had a very busy schedule, so after doing bits and pieces of the Concerto during most of the spring, it was only in the summer that I found a couple of weeks to really dive into the score. During the two months prior to the concert, I really practiced day and night to master the whole Concerto.
In anticipation of the first performance, I was quite anxious. Despite this attack of nerves, I felt really at ease during the performance and I really enjoyed playing it on stage. The second performance later that week felt even better. I really hope that I'll be playing this Concerto many times more. So, even though I was familiar with all the myths and stories, such as the movie "Shine," it turned out to be a fantastic project.
AB: How did you prepare for a very demanding life as a concert pianists, in terms of repertoire, during your time at the Conservatory of Amsterdam? Did you, for instance, learn how to program a solo recital or chamber music concert?
HM: Some of the repertoire that I played prior to my time at the Conservatory I could still play in recitals. For instance, I've played Preludes by Rachmaninoff, Etudes by Chopin and Ligeti, and also the Sonatine by Ravel. This last piece, together with Miroirs and Rachmaninoff's 1st Sonata, I even recorded on my first CD that was recently published.
When I started my lessons with Jan Wijn, romantic piano music was absolutely not the core of my repertoire. With him, I started working on pieces like Schumann's Carnaval and Mussorgsky's Pictures at an Exhibition. In a way, you could say that Jan Wijn was a lot more orthodox in his approach to repertoire. He wasn't necessarily the kind of teacher that asked me to bring 20th century abstract music to the lessons. But I enjoyed working on contemporary pieces with him as well.
AB: You're also a very gifted organist and recently obtained your Masters degree in organ performance, Summa Cum Laude. Which parallels and differences do you encounter when practicing on both instruments? How do you apply your insights into your daily practice?
HM: One of the biggest challenges in playing the organ, compared to the piano, is that you need to find a different balance in body posture. The simple fact that your feet don't touch the ground has a huge impact on this balance. Therefore a good posture is extremely important to achieve a free technique. Also, in terms of articulation, I found a new approach to the piano. Playing the organ, I feel that I became more aware of my fingertips and movements. Articulation is the biggest factor in determining different styles of playing. Therefore, I developed a lot more awareness about the duration of a tone and how it affects phrasing. Playing the organ also enriched my understanding of a musical line.
The difference between both instruments was mainly emphasized by the teachers. For instance, my organ teacher was quite strict and theoretical about tempo. He believed in set tempi for every composition. This approach gave me a certain context to work in – I never got that before. Jan Wijn was more effusive and talked a lot about effect and feeling. He still remained true to the score, of course. His vision often collided with the fixed context given by my organ teacher, Jacques van Oortmerssen. For me, this was a perfect opportunity to think outside the box and find my own musical truths.
AB: Considering the extremely high technical standards necessary for any performance, how do you deal with this? How do you make sure your performances are technically clean and well executed? How were you prepared for this part of your artistic career?
HM: I can start off by admitting that I've rarely played perfect concerts. There are always a few slips. I've seen some of my colleagues play their recitals absolutely flawlessly, which is highly frustrating, ha-ha! I can be amazed by this phenomenon, though I know the essence of a performance should still be about the musicality, stories, and gestures. To achieve technical perfection and 100% clean executions of compositions, I believe you need extreme dedication to the studying process and an ability to concentrate beyond what most people will ever experience. I found out that only when I am in optimal concentration and focus (and relaxation!) I'm able to play without a slip of the finger. But I feel my technique is rather based on playing musical gestures than playing notes, the latter being much more safe. A clean technique may never be the main priority. However, Jan Wijn has always been quite strict about any kind of mistakes that were made in a lesson or performance.
AB: I'd like to thank you for your time and effort to speak with us. We wish you all the best in your artistic and personal path and we'll make sure to keep track of your expanding career.
---
Listen: Samples from Hannes Minnaar's premier recording on Etcetera label.
Read: Review from the Guardian
Hear Hannes Minnaar play:

Saint-Saens' Piano concerto nr. 5 (extract)

Grieg's Piano Concerto

Bach/Liszt, Prelude and Fugue in A minor