Happy 150th Birthday, Claude Debussy!
Great piano composers' anniversaries don't normally take place annually, but since the Chopin & Schumann year 2010 and the Liszt celebrations 2011, time has now come for another immensely important composer.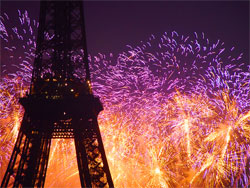 Today, the 22nd of August 2012 marks the 150 years birthday of the French composer Claude Debussy, by many considered the father of "modern music".
A New Musical Outlook
Debussy's piano music is largely a study in miniature. Most of his material comes only a few decades after Liszt's death, but is strikingly different. Gone are the thundering octave passages and incredibly rapid technique, leaving behind a collection of much simpler pieces that evoke startling images.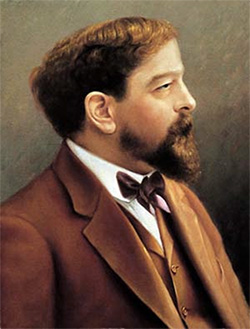 Where Liszt's great innovation of composition was to through-compose pieces as a single stream of consciousness, Debussy contributed the Impressionist School of music. Although Debussy himself intensely disliked the term Impressionist when it was applied to his music, one cannot deny that his works closely match the ideas of the Impressionist School of art. Simple brushstrokes left undefined by Monet or Degas mirror Debussy's motivic development. Debussy did not want to develop themes or melodies and preferred to develop snippets of musical information instead.
A Composer with a Painter's Palette
Debussy generally paints his audio works with the strokes of a small brush, only rarely venturing beyond this microcosm of his ideas.
However, a short list of some of his works will serve to illustrate the immense variety of sounds and colors in this small-scale pianistic universe.
Both music and art evoke misty images of their subjects, capturing their essence instead of their details. This leaves much to the imagination of their observers. For example, Des pas sur la neige (Footprints in the Snow) is harmonically and melodically bleak and brittle. One can almost hear the crackle of ice and hear the moan of the frigid wind. Under the tinkling of the ice, a stubborn, plodding ostinato indicates the sullen tread of a weary, saddened traveler.
At the other end of the spectrum is La fille aux cheveux de lin (The Girl with the Flaxen Hair), which charmingly depicts a dreamy, fair haired girl, completing its picture in only thirty-nine measures.
An example of a larger work, where Debussy also experiments with newer techniques of composition, is L'Isle joyeuse (The Happy Island). This piece explores the whole-tone scale, but also meanders back and forth through the lydian mode. It is worth noting the elision Debussy creates through these shifting tonalities, arriving triumphantly in A-Major for the recapitulation.
Finally, the somewhat neglected 12 Etudes not only stride purposefully through some of the most difficult playing a pianist must face – composed in 1915, they also provide a condensed summary of Debussy's musical achievement.

Marcelle Meyer plays "Des pas sur la neige"


Walter Gieseking plays "La fille aux cheveux de lin"


Jean-Efflam Bavouzet plays "L'Isle joyeuse"


Pierre-Laurent Aimard plays Etude No. 1 "pour les cinq doigts"


Pierre-Laurent Aimard plays Etude No. 5 "pour les octaves"


Arturo Benedetti Michelangeli plays La Cathédrale Engloutie
---
Debussy Challenge – Win a Piano Street Gold Membership

Which piano piece by Debussy is the exctract below taken from?
Send your answer to webmaster@pianostreet.com (use subject "Debussy Challenge") before September 4, 23:59 GMT.
Among those who submit the correct answer we will draw five winners who receives a 1 Year Piano Street Gold membership (value $47).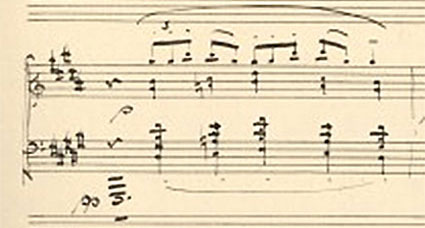 UPDATE, Sept 10:
The correct answed is "Hommage à Rameau", no 2 from Images book 1
From the over hundred correct answers received the five winners are:
Y. Tsur, F. Colafelice, H. Bezzur, D. Chick and JP Roux
---
Debussy Revealed – The Anniversary Brochure
On the occasion of the 150th anniversary of Claude Debussy's birth, Editions Durand Salabert Eschig has issued the brochure "Debussy revealed" with numerous testimonies and the participation of the Comité Debussy revealing the secrets of the Critical Edition of Claude Debussy Works.


Watch interview with Edmond Lemaître
---
Celebrate the anniversary with more links and resources!
Guest DJ: Decoding Debussy With Pierre-Laurent Aimard
To mark the Debussy sesquicentennial, French pianist Pierre-Laurent Aimard stopped by at NPR to spin a few of his favorite Debussy recordings.
Where's the Love for Debussy?
Pierre-Laurent Aimard on why Debussy Matters
The Debussy-Chopin Connection
Chopin's influence on Debussy as he developed his own, utterly individual style
Debussy's article "L'entretien avec M. Croche" (Conversation with M. Croche)
– from the Parisian literary and artistic journal "La revue blanche", 1 July 1901
Steven Berryman: What was Innovative about Debussy's Approach to Pianism?
Debussy's first Arabesque with MAM-inspired piano score
An "eye-opening" experience! – Free download of Piano Street's special colored piano score
---
Please post your congratulations and personal thoughts about Debussy and his music in a comment below.
…and, let us know how you are celebrating Debussy's anniversary!