Happy 255th Birthday, Mozart!
We celebrate your birthday, Mozart, with a little gift to all your fans, a facsimile of one of your first pieces, Minuet in G, K 1.
Print out and play!!
Download free PDF of Mozart's Minuet in G, K. 1 (autograph facsimile)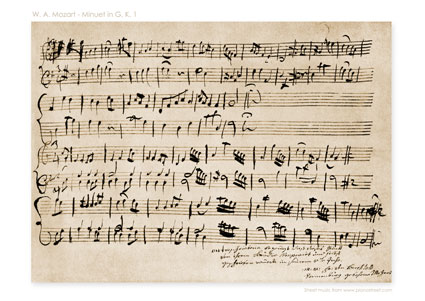 … and a few interesting links:
Mozart's 255th! 12 Wolfgang Amadeus Mozart Quotables
"January 27th marks Wolfgang Amadeus Mozart's 255th birthday, offering a perfect excuse for us to pull out some of our favourite quotes from Wolfie himself and a few well-deserved words from his multitude of admirers":
http://www.classical963fm.com/blog/mozart-quotes-birthday
Mozart's Thematic Catalogue – Introduction
This manuscript is Mozart's record of his compositions in the last seven years of his life, and thus is a uniquely important document.
During this period, from February 1784 until December 1791, he composed many of his best-known works, including his five mature operas, several of his most beautiful piano sonatas, and his last three great symphonies, as well as several famous lesser works.
Mozart organised the entries in the catalogue in the order in which they were completed. On the left-hand page he entered five compositions, each with its date, title, and often its instrumentation.
http://www.bl.uk/onlinegallery/ttp/mozart/accessible/introduction.html
---
Did you listen to Mozart today? Please share your favourite Mozart links, a greeting or your thoughs about Mozart's music by posting a comment here or on our Facebook page!