Have You Ever Met Mr. Ignaz Brüll?
Like his contemporary Max Bruch, Ignaz Brüll lived in the shadow of Brahms and even though his artistic aims were unlike those of the greater composer, he has suffered neglect, much of it unwarranted.
THE ROMANTIC PIANO CONCERTO series reaches volume 52. This series has been described as a jewel in record label Hyperion's crown and one of the glories of the recording industry. Rarely in the history of recorded music has such a rich seam of undiscovered delights been mined to such consistently dazzling effect.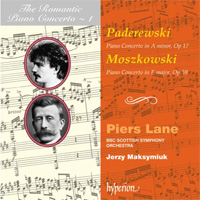 These first fifty-two volumes include 136 works for piano and orchestra: about fifty percent of these works are premiere recordings and many other featured works have only been recorded once before. The performers include some of the world´s great pianists, orchestras and conductors and each disc in itself is a miracle of virtuosity, scholarship and musicianship. Inevitably, given the range of music on offer, some of it isn't particularly memorable. Sometimes the works found along the unfrequented byways of the Romantic piano tradition can exhibit no more than surface brilliance. The presence of stellar soloists – Dmitri Alexeev, Martin Roscoe, Nikolai Demidenko, Stephen Hough and Marc-André Hamelin among them – guarantees some fabulous music-making though. Good recordings and commendably detailed booklet notes makes it not hard to see why this series has done so well.
The whole series, volume by volume is presented here on prestoclassical.co.uk
---
YouTube samples from the series
---
From Ignaz Brüll´s (1846-1907) second Piano Concerto with Martin Roscoe (Volume 20)
Volume 20 of the Romantic Piano Concerto series features Ignaz Brüll's two Piano Concertos and the Andante and Allegro, Op 88. The first of the concertos was amazingly composed when Brüll was just 15, the second when he was 22.
A very well respected pianist, Brüll was noted for his sympathetic insight into the essence of a work, which only a virtuoso who is a creative artist can possess. Colleagues such as Franz Liszt, Anton Rubenstein and Clara Schumann, as well as many critics, regarded him as one of the leading exponents of his craft. As a composer, he stood firmly within the tradition of the conservative, Classical school. In the language of the time, this tradition was described as being 'in the direction of Schumann and Mendelssohn'. Its most distinguishing features were a clear awareness of form based on Classical models, and a measured form of expression which shunned excess and exaggeration.
---
From Wilhelm Taubert´s (1811-91) second Piano Concerto with Howard Shelley
Taubert's A major Concerto was described by Schumann as 'one of the best' – he also noted the parallels between it and Mendelssohn's Op 25. But these similarities, however, do not negate the marvellous and distinctive music contained within Taubert's Concerto. Nearly half a century separates Taubert's first concerto and his Piano Concerto No 2 in A major Op 189 (c1874), and the second concerto reflects developments in the areas of harmonic expansion, cyclic development, and, of course, increased virtuosity.
---
From Ignacy Jan Paderewski´s (1860-1941) Piano Concerto in a minor with Piers Lane:
Paderewski, born in November 1860 in Kurylowka, Podolia (Russian-Poland), was a still virtually unknown 28-year-old when he composed his one Concerto. (His only other large scale work for piano and orchestra is the Fantaisie Polonaise, Op 19, written some five years later.) Though he had made his debut at the tender age of eleven, his career proper as a solo pianist did not take off until his mid-twenties after extensive studies with the great pedagogue Theodor Leschetizky. A spectacular recital in Paris in March 1888 and a further one in Vienna in November the same year were the starting points for a performing career that would make his name synonymous with the piano and lend it near-legendary status during his lifetime.
1888 was also the year of the composition of the Piano Concerto—the year when the two driving forces of his creative life emerged finally from the wilderness to meet in triumph. His state of mind at the time is etched into every bar of the concerto, revelling in exuberant pianism and fervent emotion.
---
From Joseph Marx´s (1882-1964) Piano Concerto with Marc André Hamelin:
The Romantisches Klavierkonzert (which, as with all Marx's works, bears no opus number) was composed in 1918/9 and first performed by Marx himself in a version for two pianos in the summer of 1919 with the Trieste-born pianist Angelo Kessissoglu, who also performed the orchestral premiere in Vienna in January 1921, conducted by Ferdinand Löwe. The concerto is in E major and laid out in three movements. It is scored for a normal-sized orchestra, but the piano part is of immense stature (Marx must have been a formidable pianist) and dominates throughout.
---